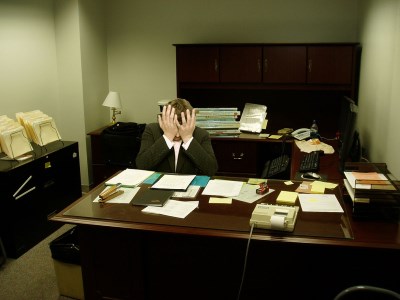 Structural reform is needed to reverse a serious decline in principal health and well-being, warned
Philip Riley
, associate professor of educational leadership at the
Australian Catholic University
(ACU).
Riley's warning comes as the 2015 Australian Principal Health and Wellbeing Survey opened for new participants.
Riley, who led last year's Principal Health and Well-Being Survey, said the well-being programs being implemented at schools were doing little to reduce the issue of principals dealing with what he called "unsustainable workloads".
"Principal health and well-being is definitely in decline, and it's across all three school sectors" Riley told
The Educator
.
"We've had over 1,200 principals complete the survey so far, but the red flag emails I get from that are running at double the rate from last year."
Red flag emails are generated and sent to Riley when a principal answers 'yes' to a statement like 'In the past week I've felt like harming myself'.
The other way such emails are generated, Riley explained, is when combined scores from an instrument called 'the assessment of the quality of life' are two standard deviations below the principal average.
"To put that in context, when it comes to disability funding in schools, if a student is two standard deviations below the means, they become eligible for funding. We've taken the same criteria which indicate the same thing," Riley said.
"We're running at more than 10% at the moment. The survey is still open and though it's possible that the principals in the most trouble might be submitting first, with 1,200 completions I don't think it's very likely.
"I think it's an indication of what's going on more broadly. Things are getting harder rather than easier."
According to the feedback the associate professor has received, principals increasingly have to fulfil tasks that are unrelated to teaching and learning.
"What the principals are saying to me is that the administration load is just killing them. They simply don't have the time to do the job that they signed up for," Riley said, adding principals are often inundated with administrative compliance work.
"They're counting taps, doing asbestos audits and looking at what chemicals are in the cleaners in the toilets. There's no question those things need to be done, but they don't need to be done by the principal."
Riley said the existing principal well-being programs are only adding more work for principals and that structural reform should be on the agenda once the survey's results are released in the second week of November.
"Well-being is a good measure of the success or otherwise of educational policy – it's not a thing that needs to be tackled by itself," Riley said.
"We need to get the thinking around that changed so that we get better policies, better distribution of workloads. Then teachers and principals can get on with the real work – the teaching and the learning."
The ACU is continuing the longitudinal study into the occupational health, safety and wellbeing of school leaders.
For more information visit www.principalhealth.org