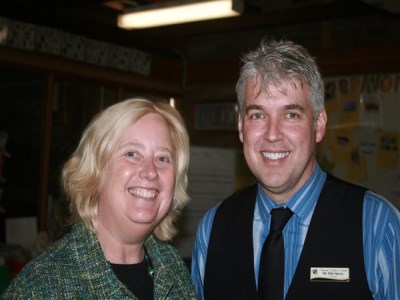 The rapid growth of a global peer-shadowing program is taking principals' professional networking opportunities to a new level.
Leading Educators Around the Planet
(LEAP) is now experiencing a level of growth due to a surge in interest from principals keen to explore new ways of improving both the quality of their leadership and their professional networks.
Launched in 2011 in Ontario, Canada by NSW educators, LEAP allows principals to host one another at their homes, engage in professional study tours and explore management best practice from their peers in a friendly and professional way.
The program has now spread to the U.S, U.K, Ireland, Finland and New Zealand.
LEAP director,
Warren Marks
, said that LEAP is currently experiencing a level of growth he could not have imagined a year ago.
"LEAP has grown more quickly than we imagined," Marks told
The Educator
.
"When we started it involved only educators in Ontario and NSW - and because it's just a small personal interest we did not plan or envisage it would become as popular as it now is."
Marks said that principals' perception of good leadership is shifting towards introspective rather than just proactive methods.
"For a lot of the more broad-thinking and aware educators, they're now realising that to effectively run a school as a large organisation, you have to do a lot more than simply make sure the tuck shop runs well," Marks said.
As part of its 2015 program, LEAP will be hosting a cutting-edge conference on teacher professional learning in Sydney which will draw together the visiting principals' topics of interest on the subject.
Marks explained that principals have found great value in the program as it allows them to compare and explore management best practice in a non-threatening environment, as well as develop close personal friendships.
"LEAP allows them to get exposure, and it lets them do that in a non-threatening situation. They're in a collaborative peer relationship with someone who isn't competitive because they're not from the school next door - they're from another part of the globe.
"Our members tell us that they feel really comfortable in opening up and sharing with these people, which leads to a lot more self-reflection about their own practice."
Marks added that the principals associations have shown great support for the program, and was recently approached by the
Association of Independent Schools
(AIS), seeking to get its principals involved from 2016 onwards.
"The feedback we've been getting from principals is that LEAP is the best thing they've ever done."
For more information on LEAP, visit the website
www.aleap4principals.com.au