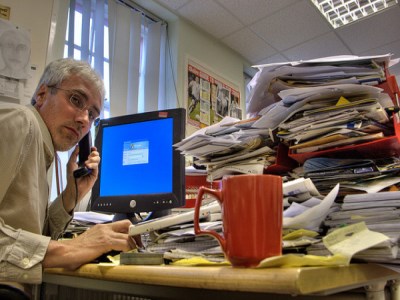 In February,
Stephen Breen
, president of the Western
Australian Primary Principals Association
(WAPPA) warned that the amount of red tape involved in principals' day-to-day work can have serious legal implications – both for themselves and their schools.
Australia remains the only country in the industrialised world that does not have a mandated professional learning qualification to become a school leader, a factor Breen sees contributing towards the inability of many principals to handle sometimes complex business administrative decisions.
He said school leaders were running "million-dollar businesses" with a myriad of separate yet intersecting responsibilities – all of which are being run by one individual. "Most million-dollar businesses would have a compliance officer, an accountant, access to legal help and other support, but the principal doesn't," he explained.
So what do other experts believe?
Ron Bamford
, principal of
Canning Vale College
, located in Perth, is also the WA president of the
Australian Principals Federation
(APF). He said the answer of whether principals have sufficient training in departmental policy and compliance was "basically no".
"Principals, particularly in their formative years, need to be aware of the possible legal issues they might face and training would help," he said.
"The training should not just inform – and scare – principals, but more importantly provide them with support to put in place mitigation strategies that are achievable in day to day practice."
He added that mitigation against legal action for each aspect of the role must be practical enough to be achievable in context of all the other things principals are required to do.
"To allow our principals to do their prime job of schooling, extra resources are required to employ suitable staff to take some of the logistical and legal load," he said.
Vincent Shin
, who works at WEstjustice – formerly Western Community Legal Centre – is Australia's first ever full-time school lawyer, offering his services at The Grange P-12 College in Melbourne.
"I believe that legal education sessions for school staff is extremely important because they need to be aware of their legal obligations as they are in a position of trust and owe a duty of care to their students," he explains.
"There are some recent legislative amendments that have now criminalised the failure to disclose to police the sexual abuse of a child under 16, as well as other related offences. There are obviously other factors involved but that is the crux of it."
Formerly, this was a reporting requirement for the Department of Health and Human Services, however, now it is a requirement to contact the police.
"In a situation where a person with such knowledge fails to report this to the police, they may be consequently charged and potentially face court."
Paul Geyer, CEO,
Principals Australia Institute
, said compliance and an increasing focus on accountability are two of the biggest issues that principals discuss in professional conversations.
"While curriculum and leadership are priorities, the complexity of managing a school site assumes much of a principal's role," he told
The Educator
.
"Access to legal training and advice must be part of principals' ongoing professional learning to address the ever-changing environment as laws change, and new issues, such as the impact of social media, arise in schools.
"We cannot teach principals to be lawyers and nor should we. A basic level of knowledge is required to ensure principals know when to seek external advice on a matter."
Geyer added that compliance burden on schools is an increasing workload problem for schools and appears to be at odds with views on increasing school autonomy.
"School leaders will not solve issues within their schools by 'tick box' compliance but will have a greater impact on developing a school culture based on integrity, transparency and ethical decision making."