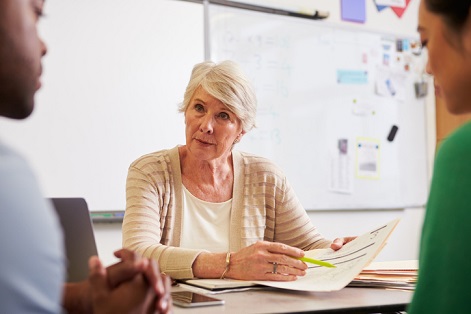 On Sunday, it was announced that the NSW school curriculum would undergo its first comprehensive review in 29 years in line with the recommendations from David Gonski's expert panel.
NSW Education Minister, Rob Stokes, said the state's review would ensure that the report was "answered by real action", while the state's Premier, Gladys Berejiklian, said it was a "once in a generation chance" to improve the NSW curriculum.
The review is understood to include a greater focus on the basics, including English, maths and the sciences, which have seen declining student outcomes over the last decade.
So what do the state's principals think of the review?
NSW Secondary Principals Council (NSWSPC) president, Chris Presland, welcomed the review, saying the existing curriculum is too crowded for teachers and school leaders to do their jobs effectively.
"There has been a broad consensus that the NSW curriculum is way too cluttered, and over time it has had so many things added to it in an ad-hoc fashion," Presland told The Educator.
"This is an opportunity to step back and review what is taught, where it is taught and what subject areas better lend themselves to other things that are important."
Presland said the state's principals will benefit as a result of their teachers being able to better manage the curriculum.
"As it is at the moment, teachers to a great job of building some of these things into their syllabus, but that takes a lot of time," he said.
"So from a school perspective, if the syllabus documentation itself makes some of these links more explicit and explains better how to incorporate them, that is a big help for teachers, and if it's a big help to teachers, it's a big help to principals as well."
NSW Primary Principals Association (NSWPPA) president, Phil Seymour, agrees.
Seymour said that for many years educators have struggled to complete the syllabus elements in the allocated times and in the depth needed.
"The two major reasons we have struggled are the amount of content in the syllabuses and the additional 'extra-curricular' programs we have to squeeze into our days," Seymour told The Educator.
"Teachers also have to ensure we are covering digital literacies, best use of IT and ensuring we cover the three cross curricular priorities, such as Aboriginal & Torres Strait histories & culture, Asia & Australia's engagement with Asia and sustainability."
However, Seymour said that while these learning areas are important, they have detracted teachers from the time they could be using to "focus on their main game".
Seymour also welcomed the Gonski 2.0 recommendations of focusing on literacy, numeracy and the general capabilities, which he called "a move in the right direction".
"In this review NESA, closely collaborating with the profession, needs to finds solutions to de-clutter the curriculum and support our teachers in the classroom with better ways to integrate the curriculum," he said.
"Primary teachers need to be part of the solution."
Related stories:
Principals respond to curriculum overhaul
PM backs radical overhaul of curriculum
Gonski looks to evidence-based teaching as the way forward