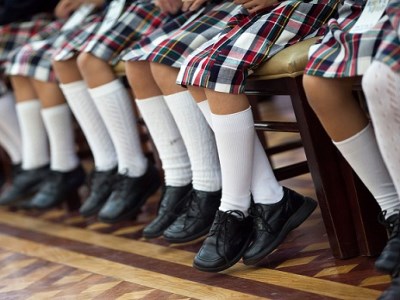 On Tuesday, the NSW Government announced that girls attending public primary and secondary schools will be given the option of wearing shorts or trousers.
Under the changes, announced by NSW Premier Gladys Berejiklian and Education Minister Rob Stokes, all government schools will be forced let girls wear pants if they choose to.
Schools will also be made to give parents at least three years' notice before introducing changes to big ticket items, such as blazers, in an effort to protect against rising costs.
NSW Secondary Principals Council (NSWSPC) president, Chris Presland, said that for the vast majority of schools it is business as usual and represents a clarification for a small number of schools that had been having issues with uniforms.
"There are only a very small number of schools that required this clarification over uniform options, but the majority of public schools in NSW would already have options for boys and girls to wear gender neutral clothing," Presland told The Educator.
"The statement by Premier Berejiklian and Minister Stokes makes this expectation clear for everybody. It's a shame they can't do the same in the independent sector."
The new policy states that all schools include items that are affordable, comfortable and made from easy care fabric.
Presland said most public schools have a "common sense" approach when they change their uniform policies to ensure that there is a reasonable implementation timeframe, economical alternatives and that no families are disadvantaged by their ability or inability to pay for uniforms.
Premier Berejiklian said the government's new "modern makeover" makes uniforms practical and comfortable for students, with affordability for parents "front and centre".
"For families we know every dollar counts and we want to do everything possible to drive down cost of living pressures," Berejiklian said.
Stokes believes the new policy will be popular with schools, students and parents as it is now simple to understand, as opposed to the previous policy that was 24 pages.
"The new clear and concise policy that comes into effect this term is just two pages. Parents asked for a better policy and I am proud to provide one," Stokes said.
"It is important to remember that families need to have access to the most affordable uniforms possible."
Stokes said the NSW Government had "heard parents loud and clear" – and addressed the amount of notice for schools changing their uniforms following feedback.
"Most families buy items to last several years, so we have changed the notification period to three years on costly apparel, so parents aren't caught out having to re-purchase expensive items such as blazers," Stokes said.
The Educator has contacted NSW Primary Principals Association (NSWPPA) president, Phil Seymour, for comment.