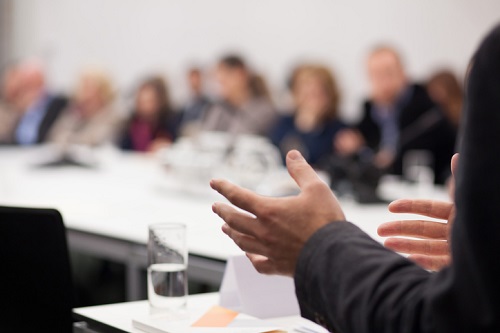 Some of education's top thought leaders and principals recently converged to discuss the challenges associated with Australia's shifting school and technology landscape, and how educators and students can navigate them heading into the future.
The Educator Leaders' Summit 2019, held at the Crown Melbourne last Thursday, included two separate streams covering school leadership and technology in teaching and learning.
At the Summit's Technology Stream, AITSL deputy CEO, Edmund Misson's keynote explored how school leaders can excel through leveraging digital technologies, where technology plays a role in developing leaders and how to harness the opportunities that technology provides.
'Technophobes and Technophiles'
Misson spoke about the attitudes of educators who are 'technophobes' (expressing excessive concern about technology) and 'technophiles' (assuming technology can solve any problem).
"Technophobes often worry about technology's distracting impact on students' learning. It's not that there's nothing in that, but we shouldn't give into despair on this front," Misson said.
"The big track that underpins technophobia and technophilia is this idea of technological determinism; that it is the technology that makes the difference and will drive what's happening, but there is an element of hype and exaggeration in this."
Misson said that while technology can offer educator's significant opportunities, it's "not the main game".
"Teaching and learning is the main game. It's not the technology alone that drives things – principals are in control," he said.
"What we need to do as a teaching profession is embrace technology in a way that maintains that control and use this to reinforce the uniquely difficult rewarding work of teaching and school leadership."
Building the entrepreneurs of the future
Stella Jinman, principal of Cecil Andrews College in Western Australia, addressed the topic of how educators can embed cutting-edge STEM programs in their classrooms.
Jinman highlighted the need for schools to develop a greater entrepreneurial mindset in students, who face a future where this skill will be in high demand.
"We can't be siloed. We must be relevant, current and personalise learning. We must look at the future with the technological shifts and ensure that young people are well-versed to solve real-world problems," Jinman said.
"That has to involve students' hearts and minds. That connection is the catalyst to help them become totally engaged and immerse themselves not only in the technology of the 21st century but those enterprise skills and future attributes that are so highly in demand now."
Building staff and student capacity
In the leadership stream heard from inspiring principals such as Liana Gooch, a deputy principal at Korowa Anglican Girls School, Loretta Piazza, principal at Meadowglen Primary School and Glen Waverley Primary School principal Frank Catalano.
Catalano said that during his second year as principal at Glen Waverley Primary School, he drove a three-pillared philosophy aimed at improving staff retention and student engagement.
"Our philosophy is that students are at the centre of everything we do," Catalano said.
"The second part of our philosophy is that building staff capacity is paramount, and the third part is that everything we do is based on research and a whole-of-school approach."
Catalano said when he made it clear to the staff that this was the direction the school was taking, some got on board, but others weren't so receptive. Despite this, he pushed ahead and achieved buy-in for his plan from the school's community.
"I had the support of my staff, regional office and school council president behind me, which allowed me to make this change. However, I still had to have that front, and reassure staff and the community that we had everything under control," he said.
"Because we were being as innovative as possible during the course of this process, I received the support of the school's community as well – but this wasn't easy."