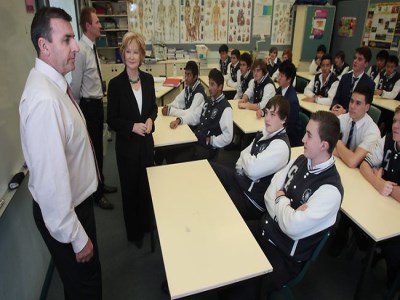 NSW principals are asking parents to sign statutory declarations to ensure families are not gaming strict enrolment policies.
The move comes amid a NSW Upper House inquiry into inner-city schools which revealed that Sydney is experiencing a once-in-a-generation enrolment surge.
Green Square and Ultimo are expected to become two of Australia's most densely populated suburbs within the next decade, putting extra pressure on a system already struggling to cope with resourcing issues.
In November, the NSW Department of Education admitted it may not be able to cater for the looming influx of primary school students in the inner-city, with the Department's executive director of asset management, Anthony Perrau, saying the Bays Precinct in particular was "an unknown".
NSW Secondary Principals Council president, Chris Presland, told The Educator that this is a difficult issue for principals whose schools are in high socio-economic areas because there is a higher demand for places.
"The reality is that a lot of parents would like their kids to be in those schools, but they may not live in the drawing area," he said.
"Unfortunately, some of these parents game the system by using other relatives and friends' addresses to gain enrolment for their child, so the purpose of the statutory declaration is to give the principal a guarantee that the person has a legitimate claim to be a local enrolment."
In addition to signing statutory declarations, families are also being asked to provide four pieces of evidence showing they live in the catchment. Parents that submit false information could be hit with a $22,000 fine or even jail.
Presland said that despite the dramatic lengths some parents go to when it comes to securing a place in a selective school for their child there is very little difference between schools.
"I've been a principal for 16 years and can say that the difference between schools actually very minimal. The fact is that they are far more alike than they are different," he said.
Presland said that a parent who is legitimately in the zoning area should understand that the principal is only trying to protect the school.
"When explaining the complexity of this issue to parents, principals will always be respectful, but there may be a minority of parents who arc up over being asked to sign a legal document such as this," he said.
"These parents should understand that when principals ask for a statutory declaration, they're doing so to ensure that fairness prevails."

Related stories:
New school enrolment data revealed
New initiatives to ease student overcrowding