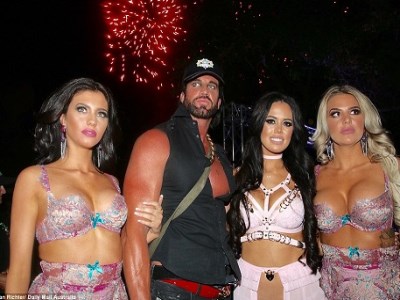 Two Queensland schools are under fire for giving students an assignment about a colourful but controversial Gold Coast personality and his risqué activities.
According to
News Corp
, the assignments which depicted some of the antics of Gold Coast playboy, Travers "Candyman" Benyon, involved provocative images that objectify and degrade women.
However, the schools have defended the English assignments, saying they represented a "critical analysis of ethics and bias in contemporary media".
Brisbane Boys' College issued a statement defending the purpose of the assignment.
"As part of their Senior English course, Year 12 students are required to critically analyse the ethics and bias of a contemporary issue within the media," the statement said.
"It's important to note the assessment is not a commentary on the topic itself. The purpose of the images was to demonstrate the way in which the issue had been portrayed.
The statement added that at no point did the college or the students endorse the images or behaviours associated with the topic.
The state's Opposition Deputy Leader, John-Paul Langbroek, said he was concerned the material – some of which includes a woman lying on her back, naked and covered in sushi – could have a negative impact on "impressionable" students.
He added that while it was healthy for young people to discuss current affairs, Benyon's publicity was "tawdry".
A spokesman for Beynon told
News Corp
that while it was wholly up to education authorities to set the curriculum, he was flattered "his life has been deemed worthy of scholastic study".