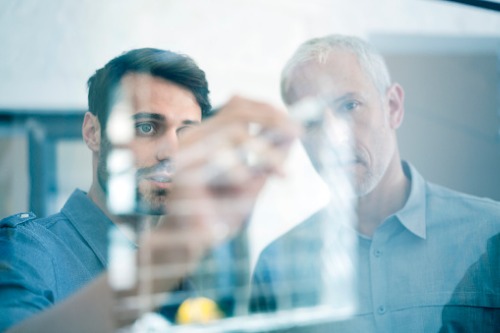 Ormiston College in Queensland will give students unrivalled access to innovation, preparing them for the challenges of tomorrow's workplace with a new futuristic Centre for Learning and Innovation.
The Centre, officially opened today by His Excellency the Honourable Paul de Jersey AC Governor of Queensland, is set across the largest interactive floorspace in Australia and includes programmable drones, Australia's first holographic wearable computer, 3D printers, writeable glass, and a green screen studio.
Ormiston College principal, Brett Webster, said the flexible space encourages collaborative teamwork as well as self-regulated individual study to be entirely reflective of real-world working environments.
"Our students will be ready to step into any university or workplace with confidence, having experienced the benefits of learning in an interactive space that is truly reflective of society's modern, divergent, flexible and dynamic thinking," Webster said.
"We are committed to delivering the curriculum in a way that resonates with our students and readies them for the future, which means we are continually assessing pedagogy, teaching frameworks and learning environments to stay ahead of the learning needs of 21st century students."
Ormiston College has had four consecutive titles as one of The Educator's Most Innovative Schools and has been recognised for its innovative use of technology, winning the Best Use of Technology Education Award (Australian Education Awards).
The College is also Greater Brisbane's first Microsoft Showcase School and only one of six schools Australia wide.
The six key skills to future success
Webster said Ormiston College focuses on developing six key skills to ready their students for life after school: collaboration, innovation, self-regulation, skilful communication, real world problem solving and using information and communications technology for learning.
"These skills will prepare students to enter a high-tech workforce, where flexibility is key," he said.
"The Centre for Learning and Innovation champions these attributes to ensure students can achieve their best outcome here with us, and in their future."
Webster added that students and professionals need to continually adapt to "digital disruption of traditional structures".
"Gone are the days where knowledge and industry-specific skillsets are required for a structured 'career for life'," Webster said.
"The world has experienced a rapid acceleration in digital technology. Such advances continue to disrupt and influence the way we live and work."
The Centre for Learning and Innovation features two new libraries to service the Junior and Secondary Schools, a recording studio with green screen technology and an outdoor stage to encourage performance and support the growth and development of skilful communication.
Other innovative spaces support self-regulated learning through environmental design, including the choice between quiet study areas, private incubators, pods for collaboration as well as inviting inbuilt cubbies and lounges which have seen borrowing rates dramatically increase across the school.
There are also two large flexible learning areas for team teaching, robotics and drone flying and a social hub with an indoor and outdoor café.
Innovation and problem solving is encouraged using STEM spaces such as the large Makerspace, Print Lab and Design Lounge as well as a dedicated Virtual Reality Lab and Media Lounge for holographic work, where innovative technology is at the forefront.
"The most effective schools have the capacity to respond to these shifts, reimagine the learning process and ensure that students are future ready," Webster said.
"Whilst we cannot predict the future with precision, it is our responsibility to guide our young people and help them develop a strong mind set and arm them with the necessary tools required to cope with the dramatic changes that will occur over the course of their lifetime."