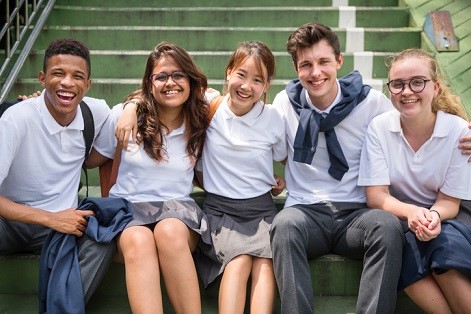 A leading Melbourne school in Geelong has developed a world-leading curriculum to support teachers in the delivery of positive education.
Geelong Grammar School's Positive Education Enhanced Curriculum (PEEC) – developed by the school's Institute of Positive Education – is aimed at students from Early Learning (four years of age) through to Year 12 and offers over 280 developmentally appropriate lesson plans.
The curriculum has been piloted at Geelong Grammar School and Bacchus Marsh Primary School, in Victoria and international partner schools in Hong Kong and Dubai.
PEEC will be available for Australian and international schools in July 2019. GGS is currently inviting teachers to register their interest by completing a pre-order which gives schools who enter a chance to win an advisory service valued a $1000.
'A shared responsibility'
PEEC is built on ten years of practice wisdom at Geelong Grammar School and has been designed in consultation with world-renowned researchers in the field of positive psychology.
Research shows that teaching life skills consistently will increase wellbeing and academic achievement in different social, economic, and cultural contexts.
Justin Robinson, director of the Institute believes that it is a shared responsibility to teach our young people these skills and knowledge.
"This is a valuable resource for any school that is interested in increasing the wellbeing of their students" Robinson said.
"It seems more important than ever to intentionally teach our young people and prioritise curriculum time to ensure each child has the opportunity to explore, understand and practice these skills."
The curriculum provides teachers with engaging information on key wellbeing domains and easy-to-read research summaries that underpin the curriculum. It also allows teachers to have autonomy and flexibility to best meet their students' needs.
Lessons have been written to be an all-inclusive resource for teachers of wellbeing as the curriculum has been designed by teachers, for teachers.
'Wellbeing is a universal human language'
Before being onboarded at Geelong Grammar School, the curriculum was piloted at Bacchus Marsh Primary School in Victoria, as well as international partner schools in Hong Kong and Dubai.
David Bott, Associate Director of the Institute who is championing the international expansion of the Institute, said schools and governments around the world are increasingly recognising the social, emotional and academic benefits of placing wellbeing science at the heart of education.
"Our recent work supporting schools in Asia, Africa, Europe, the Americas, and in our direct support of the UAE government in the Middle East has shown that, whilst our cultures and histories are different, wellbeing is a universal human language," Bott said.
"PEEC provides a practical, proven, ready-to-go resource, grounded in science and written by a team with decades of practice wisdom."