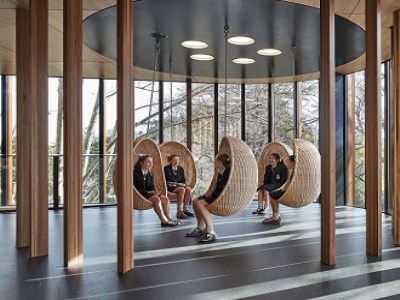 Melbourne Girls Grammar has unveiled a ground-breaking new well-being facility at its Merton Hall campus.

The Artemis Centre blends academic, co-curricular and well-being programs for the school's students and acts as a foundational part of the school's forward-thinking Senior Years Program, which was launched in February 2017.

The new centre, which was officially opened by Victorian Governor, Linda Dessau, today includes a 25-metre multipurpose hydraulic swimming pool, an outdoor seated amphitheater, a dedicated fitness hub and "Me Zones" for small groups and one-to-one well-being coaching.

The school's principal, Catherine Misson, said the Artemis Centre – which she refers to as a "gendered building" – was designed by a group of female architects who took a holistic view of girls and their needs into consideration.

These included factors such as transparency and privacy within the building, the privacy of the amenities and the interconnectedness of adults and students in the building through social spaces.

"These things really provided that sense of community connectedness that we wanted," Misson told The Educator.

"We thought: 'what sort of experience would inspire our girls to get out of bed and come to this campus that they couldn't get anywhere else?"

To enhance the health aspect of the center, the school employs well-being coaches as "a proactive dedicated specialist workforce" to mentor the girls at a time and frequency of their own choosing.

"In the Artemis Center, the girls have access to a schedule of activities that are hosted every day, and simply go online and book themselves into an activity that fits into their day or week. The girls avail themselves of that at a time that makes sense for their well-being," Misson explained.

"All of this is nested within the bigger picture of what we've done with our architecture for schooling, which allows our senior girls to put well-being in their day and craft their well-being provisions."


'A milestone for what schools can dream and deliver'

Misson said that when she took last year's Year 8 students through a preview of the school's new architecture for schooling, one of the boarders walked into the boarding house and said to the director of boarding: 'Finally, someone understands what it means to be an adolescent!'

"One of the things we share with our parents is that in this very different approach to schooling – where the girls have great scope to make choices and put themselves in the places and activities they want to take part in – they're the most punctual cohort in the school, and have the greatest attendance," Misson said.

"They have higher sustained attendance and greater punctuality than Year 12, so that's telling me that we've really engaged our adolescents."

Misson said the school has been fielding regular requests from other schools across Australia that want to visit and learn more about the program.

"I think the interest comes from the way that we've wrapped the well-being around the learning at the school. Schools are very committed to the well-being of their students, but often you have to try to fit it in or put in on the side," she said.

"What we did was said: 'If we were to provide an environment where the value proposition was well-being, what would that look like?' So we took it from there."

Misson said the Artemis Center is not just a milestone in educational practice at the school, but "a milestone for what schools can dream and deliver".

"For me, it's the intention of the building that is superb," she said, adding that the center is a community hub that "symbolically represents learning, social connectedness and physical health".

"We truly believe that all schools can focus on that, and that's the empowering agenda for young people now and into the future," Misson said.