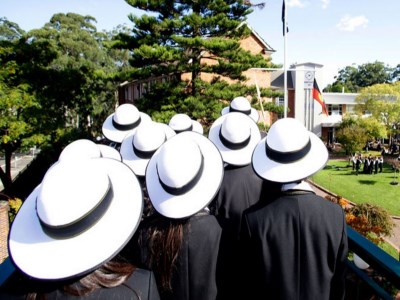 Private schools have expressed concern after learning that the Federal Government may be negotiating a special funding deal with Catholic schools.
Association of Independent Schools NSW (AISNSW) chief executive, Geoff Newcombe, says the independent sector educates just as many disadvantaged students as the Catholic sector and has called for equal treatment.
"The Catholic system have tried to paint the independent sector as sector for the wealthy, when in fact the distribution of wealth is very similar to the Catholic system, particularly at the lower end," he said in a statement.
"I think the way it's been carried on has almost split the two sectors and we work so hard to be united for the good of education of children. I think it's a real tragedy that this has happened."
The concerns add to those expressed by Liberal senators Chris Back and Eric Abetz, who warn that any deal with the Greens could force them to vote against the proposed funding changes.
Another senator, Liberal Democrat, David Leyonhjelm, says he has not decided whether or not he will support the proposed changes but warned his vote could be lost if the Federal Government does a deal with the Greens.
"I'm concerned about the size of our debt, the size of our deficit," he told ABC radio today.
Despite being offered major concessions by the Federal Government, the Greens are also undecided as to whether they'll provide their support. However, the party will meet again today hours ahead of the crucial Senate vote.
For the legislation to pass, it will require the support of all nine Greens senators and one other crossbencher or 10 crossbenchers.
Meanwhile, Birmingham says he is confident that the Federal Government will be able to get the legislation through the Senate.
"I'm sure in the end [Senator Chris Back] will support what is a very significant addition of investment in Catholic education across the country that will see funding grow from $6.3bn this year in 2017 to the eight different Catholic education authorities, growing up to $9.7bn by 2027 to those eight different Catholic education authorities," Senator Birmingham told ABC radio.
"I appreciate that there are people who have had special deals that were in place in the past and they want to keep those specials deals for the future that give them a financial advantage over others."
Birmingham said that the deals have "corrupted" the Gonski funding model and have created greater inequity across Australia's schooling systems.
"What we're wanting to see occur is an arrangement that provides fair, consistent treatment across all non-government schools regardless of sector, background, faith or otherwise. We don't want to see special deals there."