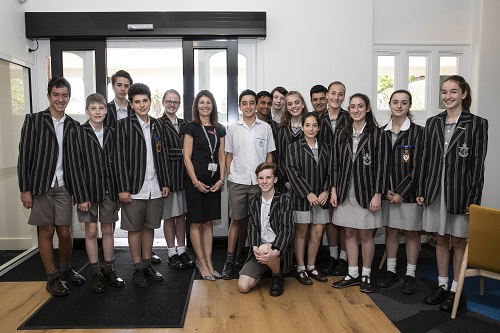 An innovation hub; science and music rooms; a media lab; a radio studio; sport facilities; science laboratories and wildlife sanctuaries.
From 10am this morning, all of these exciting spaces and resources were formally made available to Ivanhoe Grammar School students with the opening of Australia's first 'school university campus'.
Situated on the outskirts of La Trobe University's Melbourne campus, the facilities will provide a rich and varied curriculum that incorporates university lectures exclusively designed for the students, plus a range of co-curricular activities.
The school's principal, Gerard Foley, said the partnership between Ivanhoe Grammar School and La Trobe University commenced over 10 years ago as a two-week program, as part of the school's overall Year 9 'Out of Classroom' experience.
"The university component proved to be enormously popular with the students, which lead to discussions about expanding the experience even further," Foley told The Educator.
Ivanhoe Grammar School's University Campus takes the original program a step further by re-imagining the classroom altogether with a hybrid, year-long university experience which Foley said will inspire a "life-long relationship with inquiry-based learning" in students.
"Our Year 9 students now have access to world-class facilities and a firsthand taste of a robust tertiary learning environment during this critical stage of their development," he said.
Foley said that while Mathematics, Science and English continue to be important core studies, students will also be exposed to the big ideas that one would expect to find in a university, through a series of engaging and authentic learning experiences.
"Through rich tertiary experiences, students will develop skills such as innovation, enterprise, problem solving, digital and financial literacy and intercultural understanding, as they work collaboratively with La Trobe University lecturers under the guidance of the Ivanhoe Grammar School staff," Foley said.
Head of University Campus, Stella Batsanis, said students have settled in well and already had access to some "wonderful learning opportunities" at facilities such as the La Trobe Wildlife Sanctuary.
"The students are enjoying real world experiences on a tertiary campus. This encourages them to appreciate the stimulating and enriching environment," she said.
"Year 9 is often seen as a year of unique adolescent challenges. I see it as one of unique opportunities to harness their growing curiosity and desire for autonomy. University Campus encourages resilience and independence, which our students crave."
La Trobe University Vice-Chancellor, Professor John Dewar, said the opening of the new campus reflects the University's commitment to supporting and inspiring local students.
"We are privileged to provide Ivanhoe Grammar School students the chance to use some of our facilities and to play a role in providing an early introduction to university learning at La Trobe," Dewar said.
"We hope to support and inspire local students in years to come."
Foley said that the campus will provide new and innovative ways for students to sharpen their entrepreneurial skills and pursue their interests, however broad.
"As part of the innovative curriculum, students will create and start a business through entrepreneurial programs, and conduct in-depth studies on refugees, an international conflict and a passion project," he said.
"This will enhance their learning, increase their cultural understanding, help them to become global citizens and prepare them for their VCE or IB studies and beyond."