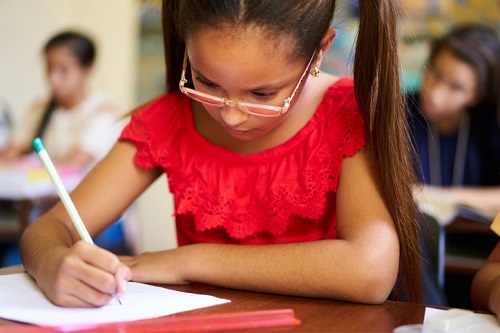 According to the latest NAPLAN data, the writing outcomes of Australian students Years 7 and 9 have gone backwards.
In 2016, an average Year 7 boy in Queensland was 26 points below the national average. By 2018 – taught by present methods – this gap increased further.
However, in late 2016, two foundation Brisbane schools adopted a programme that saw a marked improvement in students' writing outcomes, bucking the trend that has been lingering in Australian education for years.
Over two years, all students at these two Brisbane schools showed accelerated progress – significantly outperforming national and state trends in writing.
Developed by educator and author Dr Ian Hunter, the Write That Essay programme is anchored in Dr Hunter's unique skill-based approach to the cross-curriculum development of writing ability.
A breakthrough in writing outcomes
The programme builds teacher capacity and confidence in writing instruction through workshops and targeted coaching sessions in the classroom.
So far, the results have been profound.
Students using the WTE writing programme gained on average 51 points in writing: double the relative gain for the average Australian student.
In particular, boys using the WTE writing system not only outperformed all the boys in Queensland by 66 points, they were outperforming the national average by 34 points.
Today, the organisation works with more than 150 schools across Australia and New Zealand, and fast gaining a reputation as an evidence-based solution to the student writing slump.
Dr Hunter said that while university students are often well-educated, it can be difficult for them to articulate their ideas on to paper.
"I look at the writing slump through the lens of a pragmatic academic. I like things that make a difference," Dr Hunter told The Educator.
"Lots of people talk about writing. I tackle the 'how' question, which is teaching the child how to write. Teachers say to kid 'I want a conclusion' but the child is thinking 'but how do I write it?'"
'Providing a school-wide language'
Dr Hunter said it is WTE writing skillset that distinguishes the program from other providers in this space.
"Independent education bodies have looked at our work and ours was only one in a handful that were shown to lift student achievement," he said.
Dr Hunter said schools using WTE say it provides a good "school-wide language" and is easy for teachers to understand and use the programme's techniques in their classrooms.
"Through my research I uncovered that we haven't taught teachers how to improve writing for about 30 years," he said.
"In the 1970s there was a saying that 'Writing is caught not taught', but you have to teach writing like you teach reading."
Dr Hunter said many literacy programs often start from prep and fizzle out by high school.
"If we want a child to walk into a TAFE or university with the skills to do well in writing, they need to become a writer."
To contact Write that Essay:
Brisbane office: admin@wte.org.au or writethatessay.org