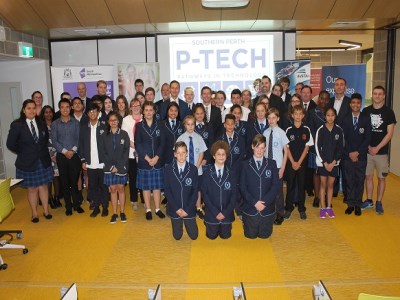 Students in Perth's south-eastern suburbs have become the first in Western Australia to take part the Pathways in Technology (P-TECH) pilot, an innovative model of schooling that is providing students with real-world STEM skills.
The P-TECH model allows industry partners to assist schools with skills mapping, provide employees as program mentors, offer workplace visits, provide speakers to address students and engage in authentic learning experiences with students.
Visiting the Southern Perth P-TECH pilot at Cecil Andrews College in Seville Grove today, Federal Education Minister, Simon Birmingham, said the partnerships are helping the next generation build the vital skills they'll need to thrive in future jobs.
"By forging partnerships between local employers and schools, we're helping the next generation build the vital skills they need for the jobs of the future," Birmingham said.
"This is the first P-TECH pilot in WA and it's part of our national expansion of the program to 14 sites across the country where employers can work alongside schools in preparing young people for success in further study and work".
The $4.6m expansion of the pilot will see students build connections between what they are learning in their classrooms and practical applications in the workplace.
The pilot will also provide a talent pipeline for employers as Western Australia transitions away from the mining boom to a knowledge and skills-based economy.
Secondary students involved in the pilot will be on an industry-supported pathway to complete their Western Australian Certificate of Education and then continue their studies to gain a STEM-related diploma, advanced diploma or degree.
The industry partners include Austal, Civmec, Datacom, Thales, Deloitte, HP, South Metropolitan TAFE and the Western Australian Department of Education.
Skilling Australia Foundation (SAF) was contracted by the Federal Government to establish the pilot sites – located in NSW, Western Australia, South Australia, Queensland and Tasmania – in addition to the Geelong and Ballarat sites, where students are already doing workplace visits.
SAF CEO, Nicholas Wyman, told The Educator that many of today's rewarding and well-paying jobs do not require a traditional university degree, but do require some form of post-secondary training, as well as general workplace skills.

"These include the ability to communicate well, to collaborate, to problem-solve, and to adapt to change – and this is what P-TECH offers Australian students. It's the same core curriculum, but delivered in an innovative way," he said.
"This is an important way to align education with working life, and that's where the employers play a key role – with mentoring, site visits and access to real world projects".