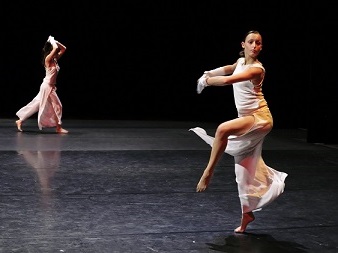 The Bendigo South East College Academy of Creative Arts (ACA) has been awarded a prestigious Drama Victoria award for innovation in curriculum delivery.
The College, which prides itself on nurturing the creativity, artistry and scholarship of students, was awarded the Innovative Curriculum award this week, placing it with the likes of the Melbourne Theatre Company and the Malthouse Theatre.
ACA manager, Cynthia Holsworth, said the program is the only one of its kind offering students the opportunity the chance to engage in academic work while also being immersed in the Arts.
"The inspiration for the program came from the recognition that we had a large group of talented students who did not feel that they had any connection to our school community and were disengaged from school, with high absences and increasing numbers of students with anxiety," Holsworth told
The Educator
.
"By offering this specialist Arts program, we created a welcoming community through which these students could focus on their Arts practice."
Holsworth said the results, even this early on, suggest improved attendance and anxiety management among students.
"The students are more connected to the school and each other – through sharing their works and through collaboration," Holsworth said.
"The curriculum allows them to receive direct instruction in their Masterclasses with professionals and develop their 'artist' through timetabled classes – focusing on developing creativity and mindfulness as well as a catalogue of works and experiences in showing their works."
The College's acting principal, Dale Pearce, said the ACA and the College's Athlete Development Program are particularly innovative programs in a mainstream school setting.
"Their purpose is threefold – to assist students in striking an appropriate balance between their passion and their education, to accelerate development in their sport or creative artistic pursuit and to improve their academic achievement, engagement and well-being," Pearce told
The Educator
.
"Making use of external coaches provides students with access to expertise which isn't always available in schools and creates positive connections between the school and the community."
Pearce said evidence shows that participation in the ACA and ADP enhances the whole educational experience for students.
"At present we're focusing on the sustainability of both the ADP and the ACA to ensure that students can continue to benefit from these experiences," Pearce said.
"There is strong demand for places in both programs and we'd like to create opportunities for more students to participate."
Pearce said this will require the College to think creatively about how it offers the programs and meets the need for additional facilities.
"In a broader sense, we have exciting new opportunities opening up through the new Technical School being built on our doorstep at La Trobe University's Bendigo campus and we look forward to integrating that with our existing programs in Science, Technology, Arts and Mathematics."
Related stories:
Former Melbourne student wins Oscar
School play delves into disputed territory