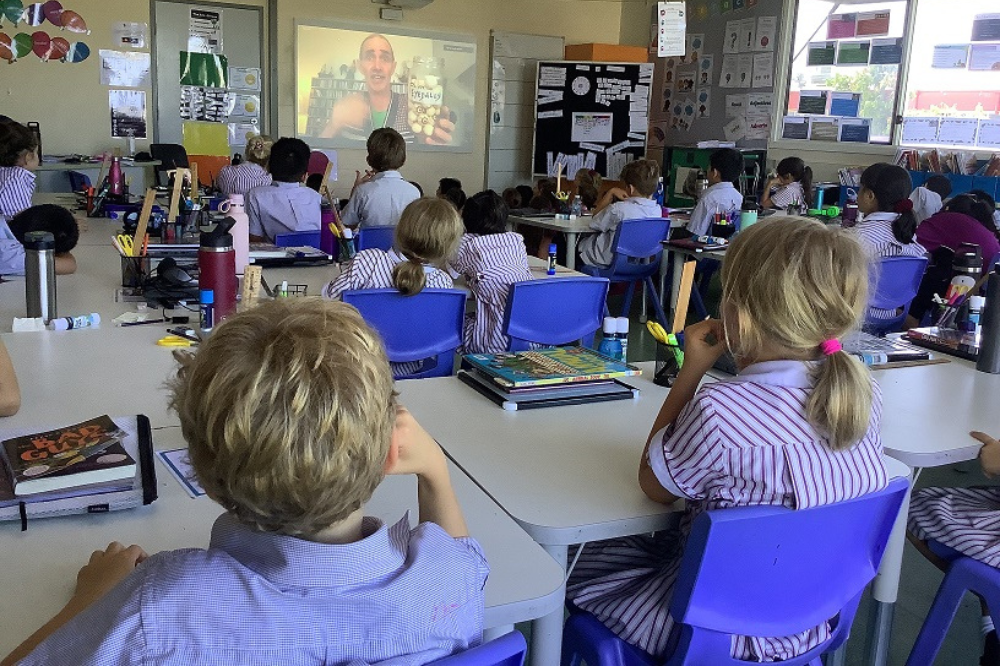 Earlier this year, Haileybury Rendall School, located in the Darwin suburb of Berrimah, in the Northern Territory, won a virtual visit from children's author, Andy Griffiths by participating in the Indigenous Literacy Foundation's Great Book Swap. The virtual visit was held over zoom on Friday 28th October at 1.30pm (ACST).
Haileybury Rendall School has participated in Great Book Swap for the past two years and this year they raised over $500 from their Junior Department, a cohort of over 375 students.
Read more: How teachers can supercharge students' writing outcomes
Students zoomed in from their perspective classrooms and watched Andy, larger than life as he regaled his love of creating stories. According to Deputy Principal Felicity Pearson, "Andy's insights into the creative process of the Treehouse series had us all laughing out loud, as did the hilarious slides he presented as part of his presentation. I loved looking at the big smiles on our students' faces as they listened to stories and anecdotes about Andy and Terry in their real-life roles as writers and illustrators. The fun they have in dreaming up the absurd together, was inspiring and so very entertaining. I hope as a result, some of our students are now aspiring to be writers and illustrators themselves."
Andy gave an entertaining recount of his life as a young boy, entranced with horror comics and sci-fi to his current activities with Big Nose (aka Jill, his partner) and long-term friend and illustrator Terry (Denton). Using toys and props like a Godzilla and patched up baby doll, Andy creates unexpected and incredulous scenarios between characters that evoke laughter.
He also shared stories about visiting remote Communities with ILF and engaging kids in stories. "They had better stories than me", says Andy. "I shared with them the story of how my dog got run over by a car and they said, that's nothing, we saw a crocodile run over by a truck—and we've got photos!". Andy encouraged students to write a little each day, to think about the problem and then come up with a solution – but not to make it predictable.
As a valued lifetime ambassador of ILF since inception 11 years ago, Andy actively promotes the Great Book Swap fundraiser to schools. "The idea is simple; swap a favourite book in exchange for a gold coin or note donation. It is a fantastic way to celebrate reading locally and raise much-needed funds to gift books to remote Communities, where there are often few," says Andy. Schools, workplaces, libraries, universities, book clubs, individuals and all kinds of organisations can host one.
"What a wonderful opportunity we were given by the Indigenous Literacy Foundation", says Felicity. "Our thanks go to Andy Griffiths and the ILF for their work in advocating for literacy and quality literature for both Indigenous and non-Indigenous young people."
ILF's Chief Executive Officer, Ben Bowen said it was wonderful to see over 500 schools and other organisations host a Great Book Swap this year. "It is always inspiring to see so many young people come together at a Great Book Swap and share their passion for reading and literacy and know they are helping to support kids in remote areas with books and literacy resources. And we love hearing the feedback from students and teachers after they had an interaction with ILF's talented and inspiring ambassadors, like Andy."
The ILF is a charity of the book industry and focuses on three programs for remote children and their families: Book Buzz supports early literacy; Book Supply provides culturally relevant books and books translated in First Languages; and Community Publishing Projects engages Communities to write and illustrate their own books in First Languages. Donations to the Foundation fund these programs to Communities that need them most.
This article originally appeared as a media release from Haileybury Rendall School.