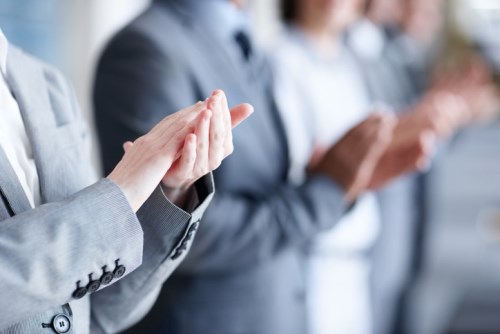 The Australian Education Awards were held at The Dockside Sydney last Friday night with the best principals, teachers, heads of department and schools revealed.
The inaugural event was attended by a full house of over 500 of Australia's education elite from across the country. Awards were presented in 24 categories recognising the work of the schools and individuals making their mark in the sector.
Media personality Tom Williams, best known for his roles in The Great Outdoors and Dancing with the Stars, was in the hot seat as MC for the night. Guests were entertained and danced the night away to the funky tunes of the Gotham City Horns.
After much anticipation, Diane Robertson, principal of Clarke Road School was revealed as the Australian School Principal of the Year and Haileybury was named winner of the inaugural Australian School of the Year award.
Meanwhile, Queensland's St Paul's School made an impression, picking up four trophies on the night. Principal Dr Paul Browning won the School Principal of the Year – Non-Government award, while his school picked up trophies in the categories of Innovation in Curriculum Design, sponsored by Atomi, Best School Strategic Plan and Best Professional Learning Program.
Finally, in a hotly contested category, Lian Davies of Whittlesea Secondary College, took home the trophy for the Thrass Education Rising Star of the Year, showing that the future is indeed bright for the education sector.
The Educator's editor, Brett Henebery, said the massive turnout at last night's awards is testament to the breadth of high-calibre teaching and leadership in Australia.
"Last night's event provided an exciting glimpse of the inspiring and innovative ways that Australia's best educators are going above and beyond to ensure that young people leave school as happy, inspired and capable citizens," Henebery said.
He added that the purpose of the Awards is not only to recognise and celebrate educational excellence but to encourage more education change-makers to step forward and share the inspiring and transformative work they're doing.
"We thank all attendees for making this event what it was, and for continuing to make a profound difference to the lives of so many young people across Australia. We hope that next year's event is just as successful."
Congratulations to all of last night's award finalists and winners. Photos and video coverage from the event will be available shortly at http://educatorawards.com/ and in the September edition of The Educator.
2018 Australian Education Awards winners:
Best Co-Curricular Program
Winner: Briar Road Public School
Best STEM Program
Winner: Warwick Senior High School
Canvas Best Use of Technology
Winner: Ormiston College
Highly commended: Coomera Rivers State School; Table Cape Primary School
Atomi Innovation in Curriculum Design
Winner: St Paul's School
The Educator Innovation in Learning Environment Design
Winner: Kurri Kurri High School
Highly commended: Bethany Lutheran Primary School
Primary School of the Year – Government
Winner: Tamborine Mountain State School
Primary School of the Year – Non-Government
Winner: Haileybury
Secondary School of the Year – Government
Winner: Endeavour Sports High School
School Notices Oz Secondary School of the Year – Non-Government
Winner: Korowa Anglican Girls' School
Boarding School of the Year
Winner: Snowy Mountains Grammar School
Regional School of the Year
Winner: Kangaroo Island Community Education
Highly commended: Dubbo College
Special Education School of the Year
Winner: Giant Steps
Best School Strategic Plan
Winner: St Paul's School
Best Student Wellbeing Program
Winner: Carey Baptist Grammar School
Best Professional Learning Program
Winner: St Paul's School
Primary School Principal of the Year – Government
Winner: Loretta Piazza, Meadowglen Primary School
Primary School Principal of the Year – Non-Government
Winner: Brad Gaynor, Holy Spirit Catholic Primary School
School Principal of the Year – Government
Winner: Diane Robertson, Clarke Road School
School Principal of the Year – Non-Government
Winner: Dr Paul Browning, St Paul's School
Department Head of the Year
Winner: Travis Goulter, Ormiston College
Thrass Education Rising Star of the Year
Winner: Lian Davies, Whittlesea Secondary College
Pearson Teacher of the Year
Winner: Jane Doyle, Dominic College
Australian School of the Year
Winner: Haileybury
Australian School Principal of the Year
Winner: Diane Robertson, Clarke Road School