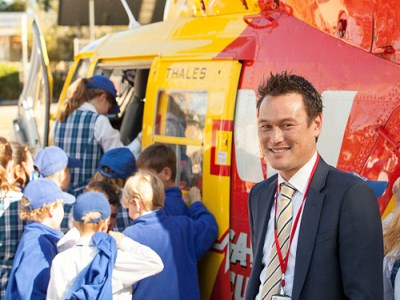 Bernard Cheng
was just 27 years old when he became a principal, starting his journey at Australia Street Infants School in Newtown, located in Sydney's inner-west.
Today, Cheng heads
Seaforth Public School
on Sydney's north shore, where he is leading an ambitious project to energise students and staff.
He told
The Educator
that his school has recently undergone a significant overhaul aimed at breathing new life into how it approaches teaching and learning.
"For the first time, we're engaging teachers across all grades to identify things that they see in the school that might need enhancing," Cheng explained.
"This means we will be telling teachers that they are now responsible as key members of the school for delivering the high quality teaching and learning plan that will move us forward."
To start this process off, Cheng and his executive have staff undertaking reconciliation action plans for education and positive behaviour learning programs.
"We essentially sat everyone down and told them that their passion is going to be their focus and will impact significantly on students," he said.
"Here at Seaforth we're very dynamic and future-focused. As principal, I provide all of the tools and support for every teacher to develop the things that really engage them, and quite often it leads to an innovation across the school.
"I'm all about facilitating teachers to push themselves and that's probably the key facet of our culture."
'Inspiration days' driving innovation
To further enhance professional development, Cheng provides every teacher two "inspiration days" each year where they explore a key idea, theme or activity they would like to implement.
"This involves our teachers undertaking things like mentoring at a partner university or a private firm and bring that back as the basis for developing a new project which can be shared across the school," he said.
"This has driven a lot of innovations at the school and has sparked opportunities like our partnership with Opera Australia which provided us with an Opera singer from New Zealand who came and conducted workshops with students at our school.
Cheng said this opportunity led to a music program being implemented across Years 3 to 6 at the school.
"This is an example of what we try to do here at Seaforth Public School: connect, create and deliver great opportunities for staff and students."
Rising from the ashes: 'future-focused classrooms'
Last September, a fire tragically ripped through the much-loved school, destroying three buildings which were home to five classrooms – but seven months on, great promise is rising from the ashes.
The school is currently working with Scale Architecture to design and develop "future-focused classrooms", which Cheng said will be finished by first term next year.
"These classrooms, which will be pedagogically-neutral, will support the classroom of the future. They'll facilitate creative spaces, informal learning and will have break-out spaces and an amphitheatre," Cheng said.
New principals should find an experienced mentor
Cheng is also a Primary Principal Mentor as part of a program run by the NSW
Department of Education
.
He said a key observation from this experience was how much the role of principal had changed, and with it, community expectations and principals' stress levels.
"I've noticed that over time providing more accountability and local decisions for schools has brought with it a higher degree of responsibilities for managing schools," he said.
"The role changed from being solely about instructional learning to being a business manager and overseeing education quality control. Now in a way we're starting to become industrial relations mediators.
"There is no doubt that the job of principal has become exponentially more complex."
Cheng said that in order to alleviate this, new principals in particular should not shy away from seeking mentoring opportunities with the more seasoned school leaders in their community.
"Ideally, there should be some degree of shadowing or work experience before an aspiring principal applies for the role," he said.
"In a lot of cases, while an applicant might have the academic capacity to undertake such a role, they might not have the experience – and these are two very different things.
"The biggest advice I would give to any new principal is to make sure you become best friends with your neighbouring principal."