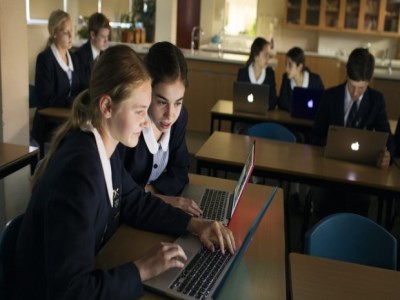 The old paradigm where learning occurs only in a classroom or lecture hall during school hours is fast disappearing. But during out-of-school hours, when teachers are at home, what will take their place?
This is a question that motivated
Peter West, director of e-learning at Queensland's St Stephen's College, to create the Online Learning Environment (OLE) – a learning tool that has energised student learning and engagement at his school.
West
dubs the current generation of students the "Netflix Generation" due to their demand for "anytime anywhere learning". He explained how the OLE rises to this challenge and accommodates the dynamic new reality of student learning.
"This is the Netflix Generation. They're saying 'give me the info when I want it,'" West told
The Educator
.
"They're going to want the answers, and they're not going to want to hang around until the next day when they get stuck."
West said the OLE allows students to login and learn at a time, place and pace of their choosing, freeing up valuable time for teachers as well as busy parents.
Another service his school uses is
YourTutor
, which provides his students with access to an online tutor – accessible via a link in every course in the OLE.
"At the moment, however, many kids are still mentally tied to their teachers. We have to break those shackles and show them the learning options that are available to them," West said.
"We wanted to give kids the opportunity to learn outside the classroom and even work ahead if they wanted to."
West explained how three months ago, one of his Year 7 students surged ahead in her computing studies after being granted access to Year 8 units in the same subject.
"Her mother got in touch with me during the last holidays and said 'my daughter wants to get ahead in her studies' so I told her that I would open up Year 8 for her," West said.
"The student recently turned up at my office and showed me how she had finished the first [Year 8] unit, which was digital image manipulation in Photoshop.
"She was already doing units of work that the Year 8 students were doing, and she's already well into those units now too. This is because we've set the course up so you can work through it by yourself."
While ICT integration and personalised learning has become a common theme in many schools, West said the methodical tailoring of his school's curriculum to student learning – both in and outside of school – had worked wonders.
In January, the school attracted a high profile visit from the Education Lead of Microsoft Korea, Jemin Chun, who chose St Stephen's as one of two campuses to visit during a tour of 'innovative schools'.
West said too many schools rushed to introduce "new shiny toys" without proper consideration as to how they would help student learning, adding his strategy was more focused on identifying what worked, trialling it and then carefully implementing it over time, tracking the results.
"If we don't have the infrastructure right, we have to give up on everything else. That's why we're working in a sequential and structured way. You can't overcome 150 years of traditional education in a year or two, you've got to move the boundaries slowly," West said.
"Some people might say 'well, that's a bit slow', but we're getting there much faster,"
The second issue of
The Educator
magazine hits desks September 17, showcasing schools around Australia who are at the forefront of change and innovation.