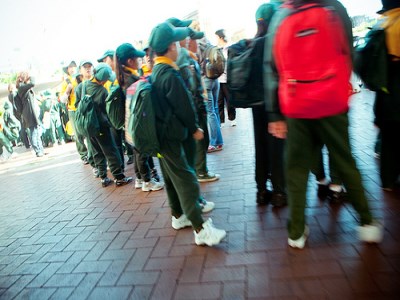 The Australian Christian Lobby (ACL) is campaigning against the Safe Schools Coalition program, calling it a "radical age-inappropriate program" that must be stopped.
The Safe Schools Coalition program claims to be aimed at helping staff and students support and accept young Lesbian Gay Bisexual Transgender and Intersex (LGBTI) people.
However, Steve Austin from
612 ABC Brisbane
said that
according to academics
he'd spoken to from La Trobe University, the research behind the program's teaching resources was murky.
Austin told Safe Schools Coalition national program director Sally Richardson the researchers said that teaching pansexuality, how to bind breasts or be gender queer "raised more questions than they addressed".
"The research is far from conclusive in this area of studies," psychologists from the unit were quoted as saying.
ACL spokeswoman, Wendy Francis, told
The Educator
that the Safe Schools program was more about "radical sex education" than preventing bullying.
"The desired effect of stopping bullying is completely lost in the radical sex education which is a major aspect of the program. The sexual concepts are confusing for many children and age inappropriate," Francis said.
Francis added that young developing girls – already vulnerable about body image – were being encouraged to access a website which includes ways to bind the female chest.
She suggested alternative anti-bullying resources be considered by schools, such as
Bully Blocking
and the Federal Government's
Bullying No Way
initiative, which advocates a national day of action to raise awareness about the effects of bullying.
"The Safe Schools hub is also a resource which is separate from Safe Schools Coalition," Francis said.
However, Richardson said the ACL had wrongly accused Safe Schools of including content which was not part of the program.
"This is not a sex education program. The resources are geared towards giving students and staff information around how to reduce bullying and negative language in the schoolyard," Richardson said.
"I invite people to look at the resources themselves."
She said figures showed that 80% of young LGBTI people had been bullied or harassed at school, adding the program was necessary to help schools address this issue.
Francis said that while preventing bullying was important, it was dangerous to "experiment" with children in a way that had the potential to confuse young boys who might have feminine traits or young girls who "might simply be tomboys".
She added that her concerns were shared by academic, including Dr Caroline Norma from the
Royal Melbourne Institute of Technology
(RMIT).
"I think there is validity in my opinion, but there is also strong validity in the opinion of people like Dr Carolina Norma, who is a feminist. She says chest binding is misogyny and that there are a lot of things to be concerned about with this program," Francis said.
"I don't think we really understand the psychology behind it yet. We need to make sure that we don't confuse children. We're labelling them way too young."
There are currently 450 schools in Australia running the Safe Schools Coalition program