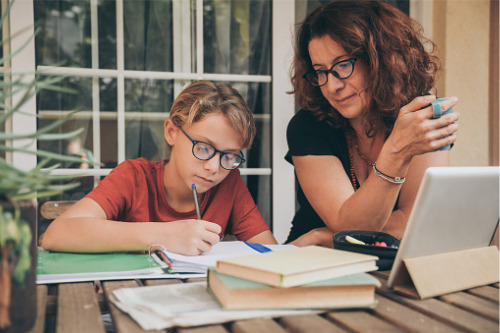 Australia has seen an uptrend in families opting for homeschooling in recent years as parents search for ways to maximise their children's learning.
Figures show that the rise was taking place even before the COVID-19 pandemic struck, but the recent school shutdowns have triggered an acceleration in families registering for home education.
In an article published in The Conversation, Rebecca English, lecturer in education at Queensland University of Technology, and Karleen Gribble, adjunct associate professor at the School of Nursing and Midwifery at Western Sydney University, crunched the numbers and discussed the potential reasons for the rise.
"Over the last ten years, there has been a steady increase in the number of home-educated students across the country," the experts wrote.
Their research found that number of registered home-educated students in Australia exceeded 26,000 – about a third of the Australian Capital Territory's overall school-aged population.
"This number may underestimate how many students are actually being home educated," they wrote. "Some states and territories limit registration to the compulsory school ages (usually six to 17), so they don't count younger and older students."
The experts' research also revealed that growth in home schooling was particularly strong in the "heavily populated eastern states" last year when the pandemic halted face-to-face learning.
New South Wales and Victoria posted a 20% ascent in students being home educated in 2020 compared to the previous year, representing 1,224 more children. In Queensland, the figure jumped 26%.
"The number of registered home-educated students in NSW, Victoria, and Queensland is larger than any one school in those states," the educators wrote. "For example, Varsity College on Queensland's Gold Coast is one of Queensland's largest schools with over 3,000 students. But home education registrations account for 800 more students."
However, the experts noted that it was not just the total number of homeschooled students that has increased. The proportion of home-educated children to the total student population has climbed as well.
According to their research, average proportion of home-educated students across Australia in 2020 was six per 1,000 students. In NSW and Victoria – the states with the highest student population – the ratio was six and seven per 1,000 students, respectively.
In Tasmania, which has the second lowest student population in the country after the Northern Territory, the proportion is 14 per 1,000 – the highest in the nation.
"While these proportions are still relatively small, they are almost double what they were six years ago," the experts wrote.
Home education is "under-researched"
However, English and Gribble noted that "families who are home educating are an under-researched group," and more studies were needed to better understand the reasons behind the numbers.
According to the experts, data showed an increasing number of students with special educational needs being home educated because parents believe mainstream schools were not equipped to meet their children's needs.
They added that mental health conditions, such as anxiety or depression, can be also "catalysts for parents removing children from school", but this has "not been quantified."
"We also need to better understand how to help students who may have a series of needs that are more complex than schools could meet," the experts wrote. "Flexibility might be a solution that may bridge the divide between schools and home education to best meet children's needs."