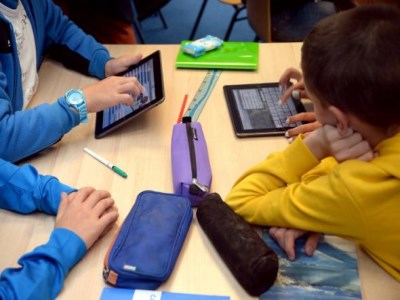 As Australia's student outcomes continue to slide compared to global rankings, the value that digital devices has for schools remains a topic of contention.
However, one thing is beyond debate: digital literacy will play a critical part in the jobs that students will require once they leave school.
According to studies, about 75% of the fastest growing jobs in the world require knowledge science and technology, which are becoming crucial fields as industries move towards automation and digitisation.
Recognising this, the Federal Government this week announced a new partnership with the University of Sydney that aims to boost digital literacy in Australian schools.
Speaking at Artarmon Public School in Sydney, Federal Education Minister, Simon Birmingham, announced the launch of the Australian Digital Technologies Challenges, which will play an important part of Australia's national Digital Technologies curriculum.
Birmingham said that while not all future jobs will require science and technology, many will require skills like coding and technologies well into the future.
"The Digital Technology Challenges, as well as the Digital Literacy Grants, form part of a coordinated strategy under the National Innovation and Science Agenda," he told reporters gathered at the school.
"Combined with our new model for school funding, all of this comes together to guarantee that we're giving children the opportunities to be able to develop the skills they need to succeed in the future".
Birmingham added that when students leave school, whether it is to enrol in university or pursue work by any other means, resources like this will ensure they have the "right grounding".
"This is not just in terms of traditional skills in literacy and numeracy, but modern skills of digital literacy, digital skills, technological skills and knowledge. What we can see here being taught today is at the cutting edge globally in terms of inspiring interest and making it relevant," Birmingham said.
With student engagement in maths and science declining in secondary schools, Birmingham said he hopes courses like this will help reignite an interest in those subjects.
"The fact that we're seeing increasing uptake of children embracing digital technologies – and seeing the importance of maths and science as part of that – can only lead to increased enthusiasm of kids to continue those studies not just through school but into tertiary education and beyond," he said.
"So, really providing increased support in the formative years for sciences, technologies is critical to making sure that more students continue with those studies right through their education".