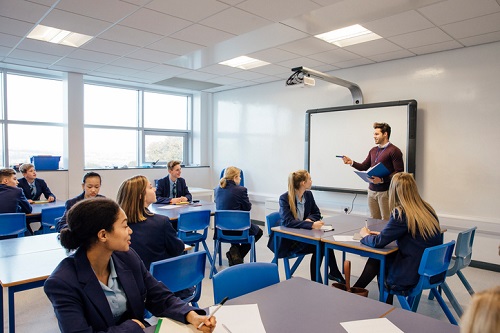 Outdated careers education is a missed opportunity for student engagement in Australian schools, new figures suggest.
The new data, by Become Education, highlighted the disconnect between the development of students' aspirations and career education in schools.
According to the findings, 95% of primary students in Years 5 and 6 have ideas about their future professions but less than 10% discuss them with their teachers.
The findings are part of an impact study amongst 430 students across Australia who have been taking part in a new Careers Education program called BECOME.ME.
'Schools need to be part of the conversation'
Become Education co-founder and CEO, Liv Pennie, said an existing body of evidence that shows children are working out their place in the world long before any formal careers education happens.
"Our research replicates this finding and shows that students as young as ten are forming solid ideas about what they might want to do. However, in most cases their school and teachers are not part of the conversation," Pennie, who has just been named in The Educator Hot List 2018, said.
"This represents a missed opportunity for educators to help students connect their learning with their future aspirations."
BECOME.ME was developed by a team of leading education, psychology and tech experts, who recognised that traditional career development within the education system was failing to prepare young people for the increasingly dynamic world of work.
Since launching in August 2017, BECOME.ME has been at the centre of a shift in Australian schools who are recognising the value of a new approach to careers education, whereby it becomes an integral part of their learning design from early on rather than being an isolated activity towards the end of high school.
"We see a drop off in student engagement that starts in upper primary school, and what the research tells us is that students are narrowing their options prematurely based on social and gender stereotypes," Professor Jim Bright, Director of Research & Impact for Become, said.
"Schools need to be implementing careers education that exposes students to a constantly evolving world of opportunities. We also need a model of careers education that equips students with the skills to thrive on change".
'Careers education must start earlier'
Through the findings of the Parliamentary Inquiry earlier this year, which concluded that careers education must start earlier and equip students with skills rather than a single decision, Victoria is leading the way for this form of contemporary careers education.
Keilor Views Primary School was one of the first schools to adapt the BECOME.ME program for its students and the impact has been immediate.
"In understanding these figures it is important for our teachers and as a school to open up the dialogue with our students and invite them to co-construct the learning units to ensure that there is focus on empowering students to dream beyond what they know and realise what they can be," Helen Butler, the school's principal, said.
"Become offers a different way for our teachers and students to think about how learning can take place. The strategies, process and stimuli that Become use really made conversations come alive for our students and helped our teachers show them the world of possibilities".
Pennie said aspiration for their future is a "powerful and deeply personal" student motivator that the latest research shows is being overlooked.
"We're providing educators with the tools to play a valuable role in helping to build, shape and leverage those aspirations," she said.