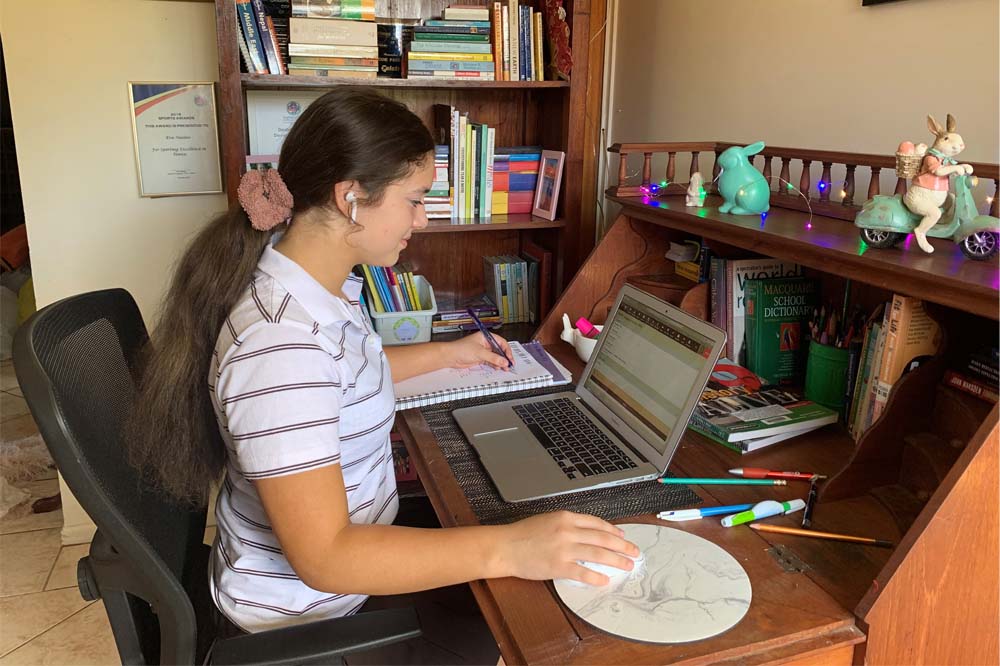 In the last week of Term, St Rita's College Clayfield chose to run a student free week to test a new idea.
The Catholic girls' school used the time to launch a new program across its entire student and staff cohorts, who worked from home to test its efficiency.
Since being rolled out, the College's Learning At Home program has received a resounding 'thumbs up' from staff and families.
Recognising that every home environment is different, the College chose a 'low tech' model to increase the opportunity for each student to experience a seamless, productive and happy transition from Campus to home.
Supported by the College's online learning platform and Classroom OneNote, along with a dedicated Study Skills program, students and teachers have embraced the week of online schooling with enthusiasm.
The new normal?
College principal, Mrs Dale Morrow, said early indications were showing a positive response from the girls and staff with students sharing their learning experience with teachers and parents more openly than anticipated.
"We took the opportunity to use this week as a chance for students and teachers to work with and provide feedback on this new learning environment prior to what could be a full Term, or more, of off campus learning," Morrow said.
"This enormous change in the way we educate was swift, came with little warning and could have been a tremendous upheaval for the mental health of students".
Morrow said the girls and teachers have been "exceptionally supportive".
"This change in the way teachers and students connect and communicate would appear to have brought out a confidence in the girls to take personal responsibility in their learning," she said.
"They are eager to commence the day, experimenting with new tools and we are continuing to see a motivated and engaged community".
A daily timetable commences with virtual House Group, followed by 55-minute lessons. Platforms such as Zoom are used for instrumental music lessons, Drama and Health and Physical Education, as well as a range of other subjects including Mathematics.
The rapid transition has also received widespread praise from parents, who have appreciated the consistency of the daily schedule and consistent communication.
'A deep, positive culture of learning'
St Rita's parent, Sally Conn, said her two very differently motivated daughters did not feel disadvantaged by the home learning environment in any way.
"I cannot speak highly enough of my experience with St Rita's over the past ten weeks and in particular this last week," Conn said.
"It has been extremely challenging and could have easily derailed. However, there is obviously a deep, positive culture of learning that permeates throughout the school that enabled this learning to continue almost seamlessly to those on the outside."
Father of a Year 7 student, Damian Vassallo, has taken to communicating with his daughter from his home office upstairs.
"Given that we have upstairs and downstairs, I don't want to be distracted, so I communicate via Whats App desktop web," Vassallo said.
"The benefit here is that I can treat her like a team member working with me; only that her content is different. I'm enjoying the experience of having her home; I've been able to see the quality of her work and have a lot better understanding of the approach she takes".
A strong foundation of pastoral care and support
Morrow said the lack of social contact during school days and over the coming months will be a challenge for all schools.
"Already our pastoral program, for which the College is renowned, is permeating the Learning At Home program," Morrow said.
"The positive confirmation that each student is supported and valued both at home and through the school connection is vital to success. We thank the staff and girls for their amazing response to this new paradigm".
Morrow said she was proud of the professionalism of the staff and the commitment and diligence of the girls.
"As we navigate our way into this new world we do so with confidence and cooperation," she said.