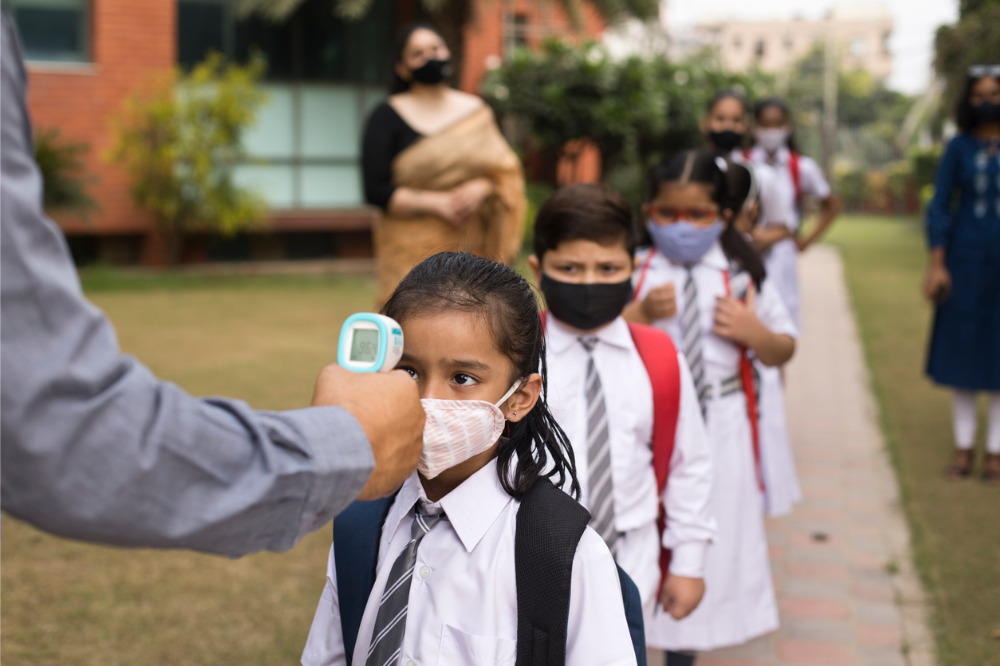 Schools across Australia are on alert amid a significant spike in the number of Covid cases being driven by the highly contagious BA.5 subvariant.
Chief medical officer Dr Paul Kelly says BA.5 is "a significant new threat" as Australia faces its third Omicron wave.
"Here is a new variant of Covid-19 that is circulating in the community and it poses a significant new threat. The reason for that is because it's much more infectious than earlier variants," he said.
Over the last 24 hours, Victoria – which recently urged school students to wear masks to help combat the spread of the virus – recorded 14,312 new COVID-19 cases and 28 deaths.
Meanwhile, NSW Health has recorded 13,829 COVID-19 cases and 25 deaths in the latest reporting period. As staff and students began returning for Term 3, the state's government said it would be undertaking a "four-week blitz" to safeguard students and staff from the virus.
Today, Queensland's Premier, Annastacia Palaszczuk, strongly encouraged residents, including students and teachers, to wear masks due to the surge in case numbers. The state's health authorities detected more than 11,000 new COVID-19 cases – up from yesterday's figure of 9,650. Ten deaths have been reported since Wednesday.
Western Australian health authorities, meanwhile, recorded 7,901 new COVID-19 cases on Wednesday, while South Australia – which has now followed Victoria in urging school students to wear masks – recorded a staggering 5,054 cases.
"[Masks] are not going to be a mandated situation like we've had previously, but it will certainly be encouraged," SA Health Minister Chris Picton said.
Tasmanian Greens MP Dr Rosalie Woodruff says her state's government should be doing the same, after health authorities recorded 1,684 new COVID-19 cases and a further two deaths.
"The rate of Covid infections and hospitalisations are climbing towards figures seen during the January peak," Dr Woodruff said.
"Without the simple step of setting an expectation for indoor mask wearing for Tasmanian school children, the Minister for Health is failing in his responsibility to keep them as safe as possible."
In the ACT, 961 COVID-19 cases were recorded on Wednesday, while the Northern Territory has experienced a significant spike in Covid cases over the last several days, with 642 cases recorded yesterday.