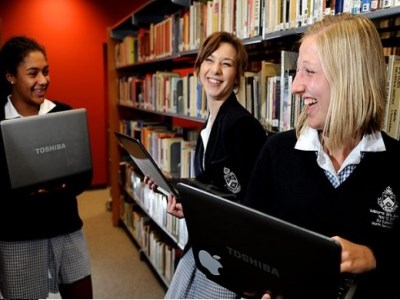 One principal and her team are going above and beyond to make sure their students "realise the best of who they are".
Melbourne Girls Grammar
principal,
Catherine Misson
, said her school is proactive about inspiring its students through a range of motivational programs.
One such program recently took the school's girls to San Francisco to explore their potential as entrepreneurs. The conference – being held in San Francisco – will involve 59 Middle Years students who will meet up with students from the Castilleja Girls School in Palo Alto, California.
"Our girls will be networking with their hosts at Castilleja girls in real-time. When our girls return home, there will be a joint project with the Castilleja girls around the big ideas discussed at the conference," Misson told
The Educator
.
The girls received another perspective-enhancing opportunity when they got to spend a day observing an all-boys class at Melbourne Grammar School this term to explore the question 'what is a boy'.
Misson said the boys were given a similar opportunity when they visited Melbourne Girls Grammar to explore the same question in the context of an all-girls learning environment.
"The boys and the girls will now collaborate through a variety of mediums to create a shared expression of what it means to be an emerging citizen and explore how we can overcome notions of gender discrimination or stereotyping," Misson said.
The school is also building the first ever school community centre developed entirely by women for women.
The centre, named the Artemis Project, will open in January 2017 and offer the services of professional nutritionists and sleep specialists.
"We had a team of all-women architects design this community centre. We believe it will be the first gendered building of its kind in a girls' school," Misson said.
Misson cited new research which has shown that by age of 14 a third of all girls have become sedentary because they worry about the way they look.
"We want our girls to not worry about the way they look so that they will remain engaged with physical activity," Misson explained, adding that the school had a "fantastic" conference in Melbourne on Friday, which focused on the fusion between education and health.
"This is already a big agenda for Melbourne Girls Grammar, but we think the time has come that it should be a big agenda for Australia," Misson said, applauding the hard work by her staff towards making the school an innovative learning space.
"I'm really proud of our staff here. They've been working super hard and they're really committed to doing things in an innovative way.
"We're pushing for that because we really do love our girls and are very keen to make sure that they realise the best of who they are."