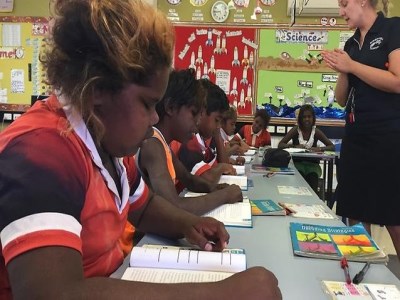 The tenth annual Closing the Gap report card, released yesterday, showed that Australia is failing to meet a number of goals aimed at improving the lives of the Indigenous population.
The report outlines the government's record in meeting its own targets on issues such as infant mortality, life expectancy and economic performance.
However, data from the report showed that just two of the seven targets are on track to be met.
Prime Minister,
Malcolm Turnbull
, acknowledged more needed to be done to address the worsening plight of Indigenous Australians.
"A person's right to shape their own identity and for that identity to be respected is central to the well-being of all people," Turnbull told Parliament.
"And yet, for decades, Aboriginality and skin colour has been used to control the lives of Indigenous people and diminish their value in society. This must be no longer."
The Stronger Smarter Institute (SSI) this year marks 10 years of working towards educational improvement for children. This year the institute is gearing up to amplify education outcomes for more than 40,000 Indigenous children across 550 schools.
The institute's CEO, Darren Godwell – who has extensive experience in business and Indigenous affairs – told
The Educator
that by January 2018 more than 100,000 Indigenous children would arrive in schools, many of which are unprepared to cope with such a massive influx of new students.
"The leading edge of the Indigenous population bubble is for this year. They will arrive in schools in January 2018, and there is nothing anyone can do to stop or defer all those students to show up at those schools," he said.
"The demands and expectations of the parents will be for us to have stronger and smarter schools. We're now in the second decade of the new century so if we cannot prepare as many schools to be ready for this, it's time to give the game away."
Godwell added that "very rarely in Australia's history have we been able to foretell such a dramatic demographic shift of this kind", however he said this provided a unique opportunity for the nation to tackle this challenge early.
"We know how we can prepare and support schools to be in the best position to respond to those pressures – and now is the time to do it," he said.
"The research around where to get the best return on investment shows that it's in education. It's the single most powerful place to make an investment. If you make an investment in the professional development and capabilities of the educator, that's how you get the biggest impact."
He said the report's grim findings were in line with the institute's expectations.
"It's certainly consistent with the advice we've been providing the Federal Government in terms of its funding for Indigenous education," Godwell said.
"The fact that there has not been any overall progress is a reflection that the issue has not been high on the Federal Government's list of priorities.
"It's the government's prerogative to set their own priorities, but we shouldn't pretend that they're actually listening to communities or taking the advice of Indigenous organisations," he said.
However, Godwell added that the Prime Minister's statement yesterday showed that there would now be a greater focus on delivering better support and educational outcomes for Indigenous Australians.
"The days of experimenting and hedging bets are over. [The Federal Government] now knows that it really needs to redouble its investments into what works," he said.