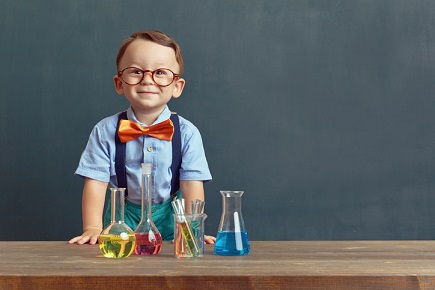 The involvement of "community science experts" in primary school classrooms can transform students' views about and understanding of science, a leading STEM researcher said today.
Dr Anne Forbes, a Senior Lecturer in STEM Education at Macquarie University said bringing in science and engineering experts who "walk the talk of science" helps students understand the processes of scientific inquiry and their value to social progress.
Dr Forbes, who with her colleague, Mr Gerry McCloughlan, developed the
MyScience
educational model to stimulate primary school students' excitement about science and to support primary teachers who may not have the knowledge or confidence to "dive into" science.
Initially introduced as a pilot study into a group of NSW primary schools in 2006,
MyScience
focuses on students coming up with specific, testable questions related to a curriculum-linked theme such as natural disasters or sustainability.
The students work in small groups to develop projects investigating their questions, with "Scientist Mentors" from the local school community coming into the classroom to help them plan their experiments and analyse their results.
Since 2007, Dr Forbes has conducted research with the teachers and students to measure the model's success.
The most recent study, published as "
'You actually feel like you're doing some science': Primary students' perspectives of their involvement in the MyScience initiative
" in the
Research in Science Education
journal, examines feedback gathered in interviews with 27 students.
As the recent paper demonstrates, all 27 students reported improvements to their understanding and views of what it meant to "do science".
"The students' comments showed that the model enabled them to experience a different way of being taught and a different way to learn," Forbes said.
"For all interviewed students, this appeared to transform their views of what it means to be doing real science, as practised by scientists."
Dr Forbes said that over the decade since
MyScience
was introduced, her research has shown that student-mentor interactions and related classroom activities fostered the development of a "community of science" in which students, teachers and mentors learned from each other during their investigations.
Dr Forbes said that while most experts were working in science-based research institutions and businesses, the pool of Scientist Mentors could include university students and retired science professionals.
"The experts could include university STEM students, who while teaching the young students would demonstrate their fascination with science and the career paths available through studying science, and even senior secondary students," she said.
"Science graduates undertaking further study to become teachers could benefit from this type of on-the-job practice.
"Retirees would be another source of invaluable expertise."
Dr Forbes said it was clear the model could also be expanded into other areas of the curriculum.
"With the right support and input from suitable community experts, the 'communities of practice' model could work to increase student engagement in subjects such as history, geography or mathematics," she said.
Related stories:
Program gives young change-makers a shot at success
Science event aims to inspire teachers and students