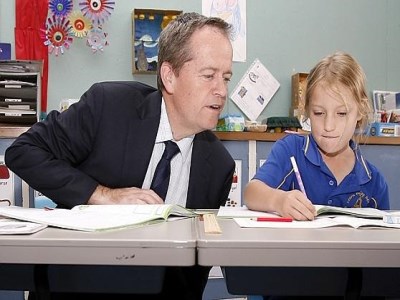 The probe, which will examine how schools can better support students with a disability, comes in the wake of the
boy-in-cage affair
, revealed in April.
The inquiry will examine the social, economic and personal benefits of improving education for students with a disability, as well as the impact of cutting $100m from the "support for students with a disability" program.
The announcement also coincided with a report, commissioned by Children with Disability Australia, showing that 23% of kids who have been diagnosed with a disability are being rejected from public and private schools.
"Our schools should be places where all children are supported to learn and teachers are equipped to meet the needs of their students. We need to hear the voice of parents of children with disabilities as well as schools and teachers," Shorten said.
"Parents of children with disability are often made to feel like troublemakers because they demand support for their child at school and that's just not right."
The
Australian Education Union
(AEU) welcomed Shorten's call for a Senate Inquiry as a way of highlighting the effect of chronic resource shortages in the area.
AEU federal president, Correna Haythorpe, said too many students with disability were missing out on an education that let them reach their potential because schools were not getting the funding they needed to support them.
"Children with disability deserve an education which treats them as individuals, includes them in school life and lets them reach their potential," Haythorpe said in a statement.
"It is not acceptable that a child with disability misses out on an education because their school cannot afford to provide an in-class assistant, personalised lesson plans, or vital equipment."
In its May Budget, the Federal Government announced $1.3bn in funding to help schools meet the needs of children with a disability. The funding will add more than $5bn to the sector over the next four years.