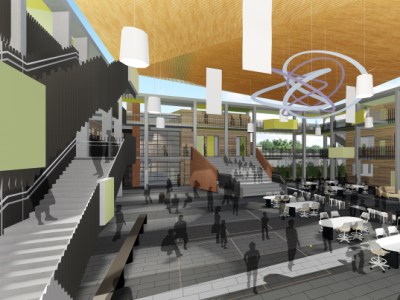 With more working parents moving into the city suburbs, before and after care options at schools is becoming increasingly important, says Greg Whitby, Catholic Education's executive director of schools.
To address this need, Catholic Education Diocese of Parramatta – which covers 80 primary and high schools, about 40,000 students and more than 4,000 teachers – is about to change the game by opening a new school with a revolutionary model.
St Luke's Catholic Learning Community
, which is located in Marsden Park, Sydney, is due to open in February as the first western Sydney school to operate from 6am through to 6pm – catering for the region's busiest working families.
Greg Whitby, executive director of schools at the Catholic Education Office in Parramatta, told
The Educator
that the decision was made after consultation with the school and its community, which agreed that the idea was an "elegant yet simple solution" to the issues that they faced.
"If you look at contemporary schools, they're 9am-3pm businesses, five days a week, ten weeks a term, four terms and then four weeks holiday – but things are changing," he said, adding the traditional model of schooling was "broken".
"Living in the 21
st
century, it's clear to see that the nature of society and work is very different from what it used to be."
'Why not try something different?'
Whitby pointed out that in order to facilitate the needs of working parents, the concept of Out Of School Hours Care [OOSHCs] facilities was created.
However, he said that the number of legislative requirements had complicated the model without relieving the stress that families were continuing to experience.
"Bearing in mind that we were about to opening a new learning environment, we asked: 'why do we have to do what we've always done?' and 'what opportunity is there to transform and change the model?'" he said.
"We then realised that if the operating hours were 6am to 6pm, the school would not require an OOSHC. This solved all of the issues we were facing, because it meant that we no longer have to worry about the OOSHCs regulations."
Whitby added that parents were also ecstatic because they no longer had to worry about rushing between an OOSHC and a school.
"Some parents may have kids in several different OOSHC, which means more rushing around. This way, they'd just go to school from 6am to 6pm."
And it's not just St Luke's Catholic Learning Community that will offer this flexibility to parents, explained Whitby: "We have several schools on the drawing board that will be opened, and each of these will have the same model."
Massive community support
Whitby said that while much of the groundwork for the model had been laid, he and his executive were still looking at how the schools would be staffed.
However, he added that "innovative environments attract innovative types" and that there was no doubt there would be teachers putting their hands up for the late and early shifts.
"Yes, we had to change everything, but that's what happens when you transform things. When we went to the moon, we gave up improving the steam engine because we had to build a rocket, so we had to learn how to build a rocket," he said.
"That's exactly what we're doing here. We've entered new territory, but the staff and school community are all onside. They're solving all the problems that people thought were impossible.
"This way of schooling recognises the nature of the way people work. We're actually trying to bring schools into the 21
st
century and put that service to the community rather than parents being the servants of schools who refuse to change."
Related stories
'Exciting times' as Melbourne prepares for first vertical school
Integrate community into the design of schools