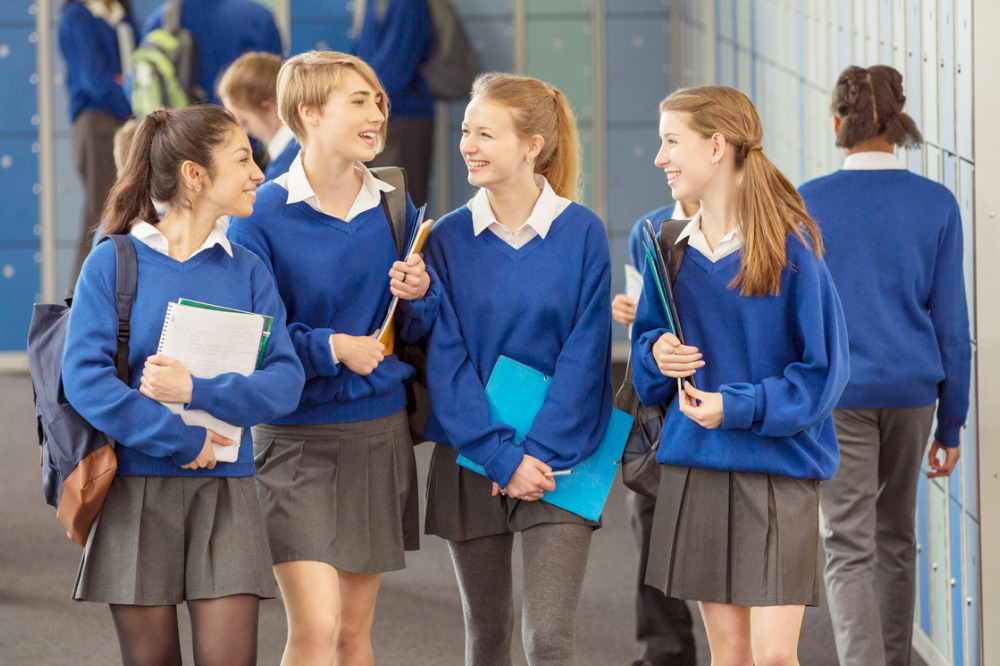 Earlier this year, research from the office of the Commissioner for Children and Young People revealed sexism and gender stereotyping remains prevalent in modern classrooms.
A separate nationwide study found that girls experience significantly higher rates of sex-based harassment in co-ed schools, adding weight to those who say girls should only be educated in girls-only environments.
On the other hand, supporters of co-educational schools argue that mixing boys and girls in the classroom can provide valuable social and developmental benefits for students. Co-ed advocates point out that these schools help students learn to work and interact with people of different genders, which better prepares them for the real world and promotes more balanced and respectful relationships.
Read more: Are girls smarter than boys? Here's what the science says
In July, leading Sydney private school Cranbrook announced its high school will be going fully co-ed after 104 years as a school for boys. The process will start with female students being admitted into Years 7 and 11 from 2026, before the Senior School (Years 7-12) become fully co-educational from 2029.
In a letter to Cranbrook School's community and stakeholders, President of School Council Jon North and Cranbrook Headmaster Nicholas Sampson said the many see the transition as being "a necessary and inevitable step forward in the context of a modern society".
Another school making the co-ed move is St Aloysius College, which in 2023 will become the first Catholic co-educational secondary school in Melbourne.
St Aloysius College principal Mary Farah said the inclusion of boys "will bring a fresh perspective and new interests, helping to extend all that the school offers for everyone's benefit."
"When our students go out into the world the genders are mixed so the earlier we can start reflecting life the better for all," Farah told The Educator in 2021.
But according to Loren Bridge, Executive Officer, Alliance of Girls' Schools Australasia, boys' schools making the move to co-ed throws up several serious challenges for girls, who she said will be negatively impacted in these environments.
"Many parents believe that co-education is better for boys because girls can have a positive influence on boys' behaviour. But what about the girls?" Bridge told The Educator.
"Co-education can be detrimental for girls not just academically but in terms of their confidence and approach to challenges, risks and leadership."
Added to this, says Bridge, is the often-used argument that co-ed schools reflect the real world and so must be better at preparing students for life.
"It is true that co-ed schools mirror what we see in broader society — an environment where women's voices are marginalised, and the balance of power is skewed in favour of men," Bridge said.
"There is far more bullying and sex-based harassment in co-ed schools — and is predominantly directed at girls."
'Co-ed culture leads to disrespect for girls'
Bridge said a co-ed culture "in which girls are included for the benefit of boys, are viewed consistently as sexual objects and conquests, and where teachers often dismiss the sexual harassment of girls as 'boys just being boys', leads to a total lack of respect for girls."
"If we are serious about gender justice then the best learning environment for girls is one that is free from gender stereotyping, unconscious bias and social pressure — where girls are encouraged to speak up, to take healthy risks with their learning, ask questions, share their views, and participate in subjects and activities that are usually dominated by boys — and this environment is a girls' school," she said.
"Girls' schools turn the tables on gender inequality, they put girls first in every activity, every opportunity, every time and this can be life-changing for a girl. We have all been to school — whether it was co-ed or single-sex, good or bad, and our own experience colours our perception of schools and informs our opinion of what is best or better."
Bridge said single-sex schools are at a disadvantage here, as they represent less than 2% of Australia's 9,600 schools.
"The misperception that single-sex schools belong to a bygone era — that they are an anachronism with no place in today's world — is often put forward by proponents of co-ed schools. But nothing could be further from the truth," she said.
"Today's girls' schools provide unparalleled opportunities — empowering confidence and ambition. In turn, their graduates are more likely to achieve salary and career seniority equal to their male colleagues."
Bridge says "just the opposite" is true for girls educated in co-ed schools.
"In fact, five of the eight female teal independents elected to federal parliament this year are graduates of girls' schools — that's a result that really punches above expectations and is indicative of the DNA of girls' schools."
Building social cohesion by modelling it
Bill Low is the Chair of the Heads of Independent Co-educational Schools NSW and ACT – a collegial group of leaders from more than 50 independent co-educational schools representing more than 40,000 students.
Low says coeducation helps "prepare children for the diversity and richness of the world after school", adding these learning environments "reflect the normalcy of life in the real world".
"Students in coeducation schools learn to socialise and work with people of every gender. This experience of diversity develops understanding and respect that is essential for life beyond school," Low told The Educator.
"Boys and girls make friends and build positive relationships with people of both genders, leading to a richer social experience."
Low said that by working together as learners, leaders and team-mates, girls and boys learn to value the contributions of everyone.
"Coeducational schools build social cohesion by modelling it," he said. "The diversity of perspectives and experiences in coeducational schools leads to empathy and a greater understanding of different ways of viewing the world."
Low said that in addition to building respect for others through experience with a diverse cohort, students also develop the confidence and ability to interact with and work alongside everyone.
"More than this, sharing learning alongside both boys and girls helps every student develop problem solving, and critical and creative thinking skills by seeing alternative ways of thinking and doing in practice," he said.
"When guided and harnessed, this can have a significant effect on students' intellectual development and academic performance."
'Co-ed schools ensure there is a place for every child'
Low said another benefit of coeducational schools for students is that they "naturally trend towards more inclusive curriculum".
"As schools naturally shape curriculum to serve their community, coeducational schools often create teaching experiences that represent a broader, more inclusive view of the world," he said.
"In History lessons, units focus on a more diverse range of both male and female figures and experiences through time. In Science labs, students learn about the contribution of a diverse range of scientists, recognising the hidden histories of marginalised figures."
In a practical sense, says Low, schools that serve both girls and boys can also make family life easier.
"Siblings can learn together on the same site, drop-off and pick-up is simpler, and social circles can be more connected. A coeducational school ensures there is a place for every child," he said.
"Coeducational schools create and nurture a realistic model of the world beyond their gates. They help prepare students to be positive participants in a world that is rich, diverse and full of opportunity."