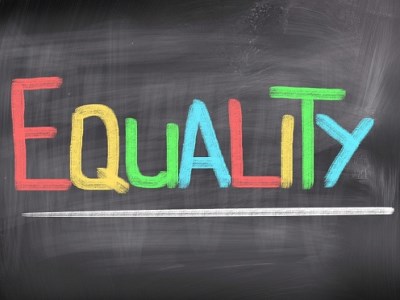 The frequent usage of a particular word, whether it's in a group or a broader community context, often reflects the public's awareness of a topical issue.
Given the critical role that children play in our future, the awareness that they have about the world, and the events unfolding around them, cannot be understated.
This is why, each year, Oxford University Press Australia and New Zealand (OUP ANZ), organise a judging panel of academics and experts to determine the most frequently used word by children, and what that says about their attitude towards it.
Last week, after sifting through 700 entries by primary school children, the most frequently used word by Australian children in 2017 was found to be 'equality'.
A judging panel, consisting of academics and experts in children's English language, evaluated competition entries based on a word's popularity, use of the word in context, and frequency.
Participants nominated their 'Word of the Year' through a piece of free writing up to 500 words based on their chosen word. Students were encouraged to be creative or factual, funny or serious – whatever they desired.
Oxford University Press director of School Publishing, Lee Walker, said that 'equality' is a topical example of how Australian primary school children are tuned in to the social conversations happening today.
Below, The Educator asks Walker to outline the significance of the result, as well as other trends that the panel identified.
In what ways did the panel find that school children are using the word 'equality'?
It was illuminating – maybe even surprising – for me to discover how many children referenced 'equality' in their submissions. While I assumed it's because the timing of the competition coincides with the current debate about equal marriage, kids' writing about equality traversed a spectrum of contexts for why it is an important word to them: gender equality, equal pay, marriage equality, religious views, disability rights, equality in sport. From one child: 'Why can't same-sex couples have the fairy-tale wedding and live happily ever after?' And from another child: 'Equality can be as simple as siblings getting the same amount of ice-cream at the beach.' One girl wrote a stellar piece of writing about equality in sport: 'In past history, people didn't always get treated fairly. Now that's changed. In AFL football, women are now able to play and umpire, just as men have done for the last 150 years. It's okay if girls play footy and boys play netball.'
Can you tell us about the interesting trends the panel identified?
Trends by age group were interesting, and reflected children's thinking about the world around them, and showed how their worlds get bigger as they get older. Children in their first three years of school, particularly girls, wrote fantasy stories about animals, princesses, unicorns, fairies and mermaids. By Year 3, children's writing started to reflect their feelings and attitudes about topics such as kindness, peace, passion and positivity. Social issues were a clear area of interest in Years 5 and 6: bullying, human rights, equality, refugee, asylum.
In your view what does the word 'equality' tell us about Australian children?
Australian children, particularly in the middle to upper years of primary school, believe strongly in fairness and equality. A girl in Year 4 encapsulated this view in her submission: ''Everyone should feel accepted, included, safe, happy, joyful, equal, peaceful and together we need to find equal rights'.
What other commonly used words featured, and why?
Sport was a popular word from Year 4, but what was particularly revealing is that more girls are writing about it than I have noticed in past research we have conducted. Sport, particularly soccer, was a common topic for boys, and they generally wrote imaginative stories. From one boy: I slip on my boots and step out onto Barcelona's freshly trimmed turf. Excitement fills my body as I warm up. Socks above my knees, shirt tucked in, ready for the most important 90 minutes of my life'. Friends, friendship and family were also commonly used words, and reflected just how important they are to kids from all years of primary school.
Author: Brett Henebery
Keywords: Student discourse, student attitudes, education
Related Stories:
Student parliament getting things done for Alstonville Public School
Students now get to decide on principals and budgets
A global approach to education: kids unite to solve future problems