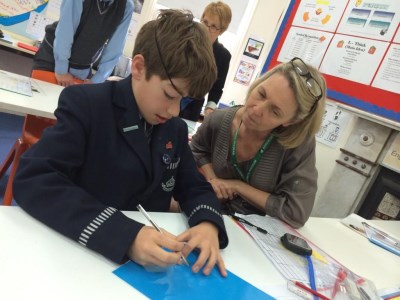 The Arrowsmith Program, founded on neuroscience research and over 30 years of experience, aims to help students strengthen the weak cognitive capacities underlying their learning dysfunctions through a program of specific cognitive exercises.
Samantha Jefferson, Arrowsmith program coordinator at Silkwood School, Mt Nathan, Queensland, told
The Educator
that the program offers a way for teachers to address – and resolve – students' learning deficits.
Jefferson said although her school had intervention programs for dyslexia and social skills, students who were academically capable weren't performing academically – so she went in search of a cognitive intervention program.
"The Arrowsmith program was the only thing I found that addressed cognitive deficit," Jefferson told
The Educator
.
Jefferson said the program allows students and teachers to collaboratively address the learning areas that require the most attention, adding there is a lot to be said for "allowing students to just sit with a skill that they're struggling with".
"At the moment some teachers are saying: 'we can't continue to teach you Year two skills because you're in Year five and you should already know them'," Jefferson said.
"Why can't we teach a child Year 2 skills when they're in Year 5? There's absolutely no reason why that can't be happening with a properly differentiated and scaffolded classroom."
Jefferson said seeing such a big improvement in her students has rejuvenated her as a teacher.
"We feel successful as teachers in this program because we see enormous progress in the development of our students," Jefferson said.
A key component of the Arrowsmith program is challenging students to break free from their existing learning anxieties to constructively overcome them.
However, this process isn't always easy as students tend to resist change when it comes to being coaxed out of their comfort zone.
"Neurological growth doesn't happen when you're comfortable. That's called watching TV. It's about being challenged and challenge is often uncomfortable. We often avoid it," Jefferson said.
"It's about adjusting students' goals based on what is happening to them right now at this minute. We tweak their goals and create attainable goals that are just outside their reach at that point in time and help them work towards it."
Jefferson said she has received very positive feedback from other teachers involved in the program.
"Across the board I haven't had a negative conversation with a teacher about the Arrowsmith program.
"We're all very pleased with the outcomes and the parents have been very pleased with the students' learning outcomes.
"A lot of parents describe it as a kind of clarity that their child is experiencing. It's as if the background noise of their cognitive dysfunction is starting to quieten and they're able to focus their thinking and see tasks through to the end," Jefferson said.
Training for the Arrowsmith program will be available to schools as of January 2016.