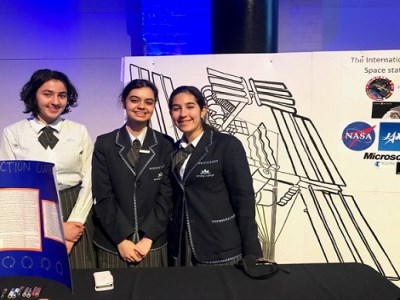 On Friday, students from eight selected schools, and the pioneers of 10 innovative space experiments, converged at the Powerhouse Museum in Sydney for a rather special event.
The students, who travelled from regional areas of NSW and Victoria, showcased their work and pitched their ideas to industry members from across Australia at the 2017 Space Showcase Event.
The night included a short talk from
Cuberider
CEO, Solange Cunin, as well as a keynote from Minister for Innovation, Industry and Science, Craig Laundy, who discussed Australia's emerging role as a space power.
Cunin said students dazzled the industry leaders in attendance with a range of innovative creations and ideas that could be used as part of future space missions.
"Students have made cosmetics for astronauts, VR simulations, music, discovered patterns of the International Space Station's movement and delved into the variations of the earth's magnetic field," Cunin told
The Educator.
"This is exciting on its own, but students have actually coded the experiments themselves to do this. Every piece of these projects has been done by students, absolutely no sugar coating."
As a result, said Cunin, the students demonstrated that they are resilient, skillful and capable, making them more attractive to the universities and employers who attended the event to meet them.
Cuberider has created two new programs based on teacher feedback and requests, with the first being a 'stage three' gifted program that gives younger students the chance to start learning STEM skills.
"We have built this in conjunction with Casula primary school and their experience with their own young students through the program," she said.
Cunin said the second program is a "simpler, shorter project" aimed at making it easier for schools to implement Problem-Based Learning (PBL) into science.
"There's a range pf projects that can be embedded into the class that are full of fantastic industry STEM skills for students to learn on the go as they work their way through the program," she said.
Cunin said Cuberider has made improvements to the learning content, hardware and coding support to further assist teachers in delivering this new program.
"The important thing about the new space agency for students is that there will be a growing number of opportunities and jobs available to them in the space industry," Cunin said.
"This is obviously fantastic, but to really take advantage of it we need to educate the youth on the potential of this opportunity."
Cunin said this is where principals can play a role in talking to students and exposing the opportunities and areas of growth to them.
"Principals and teachers can support extra learning, activities and general enquiry into the area of space, boosting awareness, interest and engagement."
Related stories:
Revolutionary program inspires students to reach for the stars
Award-winning school shares its recipe for STEM success