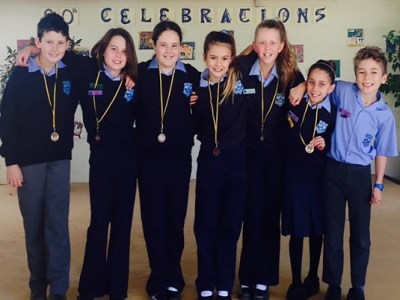 Tournament of Minds (TOM) is a problem-solving program and competition for students in both primary and secondary schools across the entire Australasia-Pacific region, which has taken place annually since 1987.
Even though it has been running for nearly 30 years, the skills it is helping students foster are at the forefront of recent attempts to drive better outcomes in Science, Technology, Engineering and Mathematics (STEM), as well as collaboration.
The program – which schools can sign up for on the TOM
website
– presents students, in teams of seven, with four challenges involving real, open-ended problems, requiring them to develop creative problem-solving techniques.
Teams can participate in one of four different disciplines – STEM education, Social Sciences and Language Literature. Schools have until July 1 to register. A little over two weeks later, on July 18, the challenges based around the concepts of the four disciplines are given to the teams to work through and complete.
Australia's lag in STEM education has been a concern, especially on the back of reports showing that within 10-15 years, nearly 40% of Australian jobs will be automated.
The Educator
spoke to those behind TOM to find out how it can benefit schools in helping drive improved outcomes and ensure students are not only prepared, but excel in the post-school world.
Program meets vital curriculum outcomes
Tanya Atherton is the head of Gifted and Talented Education at
Sacred Heart College
in Sorrento, Western Australia. She is also the state's TOM co-director.
Atherton told
The Educator
that the program has immense value for principals who are trying to find ways to boost students' outcomes in areas like critical thinking and innovation.
"This program meets a lot of the curriculum outcomes for innovative and critical thinking. It's 21
st
Century learning at its best, even though TOM has been going for nearly 30 years now," she said.
"In schools now, there is a big push for teamwork, problem-solving and open-ended challenges. All of those things are very much what we need to focus on to prepare children for the future workforce."
Atherton said the feedback from students was compelling, adding that many shy students experience a surge in self-confidence as a result of the program.
"The confidence and self-belief that comes as a result of the spontaneous challenge is amazing. It has been particularly successful in giving the more shy kids the ability to take the initiative – and that is something that can be life-changing."
A skills tournament with a difference
Deborah Andrews, public relations officer of TOM WA, told
The Educator
that last year, 17,000 students across the Asia Pacific participated in the tournament, which she said has been a huge success, not just for the students themselves, but for schools looking to drive improved outcomes.
She said the program seeks to foster cooperative learning and team-working, since students must find a solution to their challenge independent of adult assistance.
"This competition's differentiator is that seven students are working in teams without any adult supervision. Once the challenges are released, the teams sit down and consider how to work them out creatively," she said.
"The first component involves presenting their challenge, which makes up two-thirds of the mark. Students have 10 minutes to stand up in front of everyone and do this."
Throughout the program, students are required to experiment and take risks, and creative and divergent thinking are rewarded.
Andrews pointed out that having seven students per team was a deliberate decision that – although flying in the face of traditional management theory – has been shown to work wonders when put into action.
"Management theory says that in a team, the optimum decision-making number is five people. Any number greater than this means the group is less likely to make a collective decision," she said.
"The second component involves the spontaneous challenge, which makes up one-third of the mark, and this is what really separates the wheat from the chaff. It shows which teams really do have creativity.
"A few years ago, we asked: 'when Neil Armstrong stepped foot on the Moon, what are 10 different things he could have said other than his famous speech?' You have three minutes, and your time starts now."
Andrews said the judges don't just look at the creativity inherent in the students' solutions, but rather how they operate as a team.
"The judges look at important factors, such as whether they are thinking of one another and valuing each other's opinion," she said.
'More opportunities to succeed'
One past participant said TOM helped them develop and learn in a way that gave them "an absolute foot up and an edge" on everyone else coming out of school who had never had the chance to do that.
"Now that I use those skills and attitudes in the workplace and university it has given me a whole lot more opportunities to succeed," said the former student.
The parent of a participating student said that TOM was "a wonderful program" that offered opportunity for growth through intellectual and social emotional domains.
"It's shaped what they have achieved. It developed in my child a self-belief and I can do attitude that has stayed with him for life," they said.