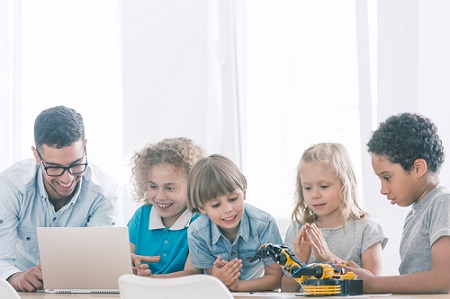 The latest NAP – Science Literacy assessment shows that Australian students' understanding of scientific concepts is on the up, particularly in the Primary years.
According to the data, Year 6 students achieved their best results since the sample assessments began in 2003.
The assessment measures the ability of students to understand scientific knowledge, inquiry, solve problems and draw evidence-based conclusions, among other important skills.
The latest data follows the release of the 2019 NAPLAN National Report, which found the performance of Australian students in Year 5 numeracy, Years 3 and 5 reading, Years 3 and 5 spelling, and Year 3 grammar was significantly above the NAPLAN 2008 average.
'Something appears to be working'
The science literacy assessments, held in October and November 2018, show that at the national level, 58% of Year 6 students attained the proficient standard – the highest percentage of students to achieve it since the assessments were introduced.
Indigenous Year 6 students also showed notable gains, with 35% of them attaining the proficient standard, a significantly higher percentage than in 2015, 2012 and 2009.
"These results indicate that something appears to be working well in primary schools and teaching Year 6 science literacy. These improving Year 6 results bode well for our future performance in PISA," ACARA CEO, David de Carvalho, said.
The report also found that Year 6 students who speak English at home had a significantly higher average scale score (411) than students who speak a language other than English at home (398) – the first time this has happened at the national level.
In previous cycles, the differences between the average scale scores were not statistically significant.
More students keen to learn about science
Since 2009, students have also been required to complete a survey to canvas their perceptions of, and attitudes to, science.
The latest data found that over 85% of Year 6 students said they would like to learn more science at school. In addition, 65% of Year 6 students indicated that they believe it would be interesting to be a scientist, indicating that a positive attitude towards this subject area exists.
In a sign that the push to help young people understand the importance of STEM is working, more than 80% of Year 6 and 10 students acknowledged that science is important for many jobs and for helping people to make informed decisions.
However, Federal Education Minister Dan Tehan said more work is required to improve science education in schools.
"If this was a report card it would say, 'must do better'. Strong science skills must be a key feature of our education system because STEM skills will drive the jobs of the future," Minister Tehan said.
"Australia should be a world leader in science education and that should be reflected in our results. Our Government understands the importance of science education to our students and our nation".