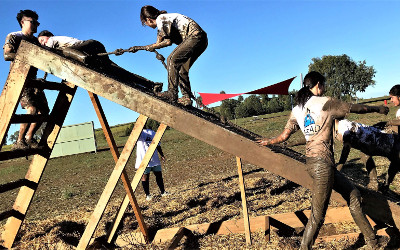 Across Australia, schools are on a mission to help students move beyond passive learning and thrive as dynamic innovators, networkers and leaders.
This is largely driven by the realisation that the 21st century economy is increasingly digital, collaborative and global.
However, with pockets of severe disadvantage cross Australia, many young people find this challenge significantly more daunting than others.
The lack of resources, encouragement and self-esteem often stands in the way of these children achieving the same level of success as their peers who go to school in more affluent suburbs.
To Shahid Majeed, who grew in a poor village in Pakistan without any financial support and went on to become a world-renowned leadership professional, this reality resonates on a very personal level.
However, through pure grit and determination, Majeed was able to achieve a kind of inspirational success that many would consider unlikely given his circumstances.
Overcoming adversity
After developing a deep passion for creating change and inspiring others to become the world's future leaders, Majeed went on to found and become the CEO of E-LEAD Global Centre of Excellence for Leadership, Engagement and Development.
"Going through hardships early in life shouldn't hold young people back when building a career and becoming a leader in the future," Majeed told The Educator.
"My mission has always been to build my own business and create highly experiential and effective programs for future and emerging leaders.
Majeed, who has a proven track-record in developing experiential leadership programs across Australia and the globe, says the need for young Australians to be taught leadership skills is now at an "urgent" stage.
"Learning traditional leadership capabilities just isn't enough anymore," Majeed told The Educator.
"If we are to succeed as a nation, our leaders of the future need to be equipped with global leadership capabilities."
As part of E-LEAD's 2017 program, the organisation took students to major corporate organisations such as Oracle, HP, Nestle, Westpac, National Australia Bank, Solista, Shelston IP, NIDA, SMaRT Centre at UNSW, Channel 9 and Gallup so they could interact with leaders and professionals from these businesses.
"Our leaders of the future need to understand the complexities of the global environment and have sound global leadership skills," Majeed said.
"They need to understand the culture, trading practices, values and activities of our country's world trading partners if they are to succeed and contribute."
Taking control of the future
To prepare school leavers in this context, E-LEAD has developed and launched the Century Global Leadership Program (Globe 21) program for university students in 2017.
Globe 21, which is currently taking enrolments for its July 15-18, 2018 program, comprises of leadership development workshops and panels, corporate and cultural immersion activities, experiential leadership challenges and real-time coaching and feedback sessions.
"This program focuses specifically on developing the leadership traits and characteristics required of our leaders in the global economy," Majeed said.
"It is a dynamic and contemporary initiative designed to provide students from leading Australian and International Universities with a gateway to international leadership, the business and cultural landscape and to develop life-long global networks."
Since the program launched, students have come from all over the world including China and Japan to undertake the program alongside Australian university students.
Majeed pointed out that more than 30% of what Australia exports lands in China, with Japan being Australia's next biggest trading partner, followed by South Korea and the USA,
"The very nature of our business environment, economy and lifestyle, is globally diverse and involves engagement with and understanding of many different cultures," he said.
"This means that our leaders of the future need to understand the complexities of the global environment and have sound global leadership skills. They need to understand the culture, trading practices, values and activities of our country's world trading partners if they are to succeed and contribute."
Related stories:
Exclusive: 'Beyond just school-business partnerships'
'Strengths-based approach' needed for Indigenous education