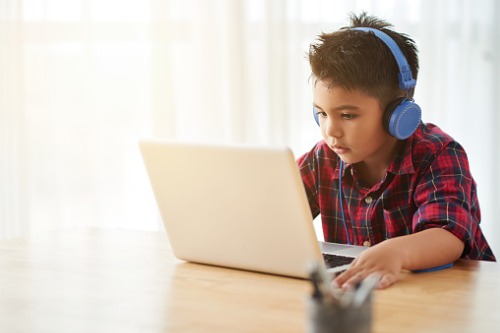 In schools everywhere, technology is being used to support teaching and learning
Some argue, however, that this is coming at the expense of students' health, with studies suggesting that screen time is making students more sedentary.
To combat this, some experts advocate the use of play to improve not only the critical social and emotional skills students need but their academic outcomes, too.
But is it possible to mix technology and playing for children's educational improvement?
While there are studies showing that physical exercise and sports can improve student outcomes, some schools are turning to other kinds of social activities that involve the use of technology.
In 2018, Ormiston College rolled out an e-sports program for its Years 9-11 students in a bid to improve their digital literacy.
Another school making interesting strides in this area is Queensland-based St. Hilda's School.
The Gold Coast school recently pioneered the state's first inter-school e-sports competition for upper primary and lower secondary school students. For its first year, St. Hilda's managed to get over 15 schools to participate in the competition.
The goal is not to get primary school students' screen times to increase, Daniel Martinez, St Hilda's School coordinator for innovation said.
"This is a competition where students flex their problem-solving skills, memory, multitasking abilities and social skills in a new and innovative way," Martinez said.
"Our league is about sociable, face-to-face competition, camaraderie and good sportsmanship, much like any other inter-school competition."
Various state, Independent and Catholic schools from Sunshine Coast, Brisbane, Ipswich, Beaudesert and the Gold Coast will be meeting up again for the second round of the Queensland Schools Junior e-sports League this month at St Hilda's.
Following the corruption and game-fixing scandal that broke out in last month's Counter-Strike: Global Offensive match online and Overwatch competitions, Martinez said that participating students in the league have to follow strict player codes of conduct, eSafety and digital wellbeing strategies.
Players are also bound by gameplay time limits, he noted.
"Our aim is to ensure all students have the chance to participate in the growing e-sports arena in a safe, supported and education-based environment."
Other opportunities
Playing these e-sports can also land students a place in a university if they plan to pursue tertiary education, Martinez pointed out.
"Globally, e-sports has gained huge traction, with major universities around Australia now offering scholarships for e-sports competitors," he said.
"We're exposing St Hilda's girls and students across Queensland to these opportunities from an early age, to prepare them for a digital era that's not slowing down anytime soon."
In fact, 2019 saw Australian universities offer e-sports scholarships for the first time.
Last year, the Queensland University of Technology (QUT) announced it will provide $10,000-worth scholarships to five students who play League of Legends. These scholars are also qualified to play with QUT Tigers, which debuted in 2017.
QUT is the first tertiary-level educational institution in the country to have its own e-sports program and provide the necessary facilities for its players.
Aside from having an entry to college, students can pursue a career as an e-sports player – an up and coming profession that can pay well than most jobs.
In an article published at The Conversation, Frederico Winer, a PhD researcher at Loughborough University, wrote that players and teams can reap millions of dollars, whether they are top players, or slightly lower ranked.
The recent Fortnite World Cup, for example, boasted a US$33m prize pool. Players who ranked in 65-108 still went home with $50,000.