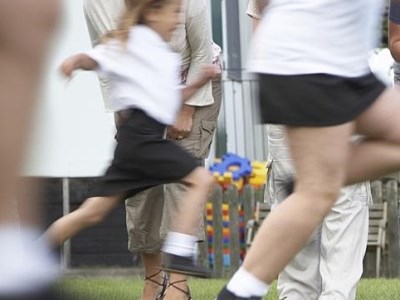 The research coincides with state schools promoting student accident insurance in their newsletters, reminding parents that they do not cover medical costs for injured students unless they or the school has been negligent.
"Physical activity in school playgrounds has changed considerably over recent decades to reflect a climate of 'surplus safety'," the report states.
"A growing culture of surplus safety can be attributed to a desire of parents and teachers responsible for children to protect school students from danger."
The aim of the research was to examine students' perceptions of playground safety during physical activity from their own perspectives.
While most independent and Catholic schools already provide this cover, policies on accident insurance vary when it comes to Government schools.
Government schools in NSW, Tasmania and Western Australia have policies in place where cover can be provided depending on the circumstances of the student's injury.
In NSW, for example, the Education Department is insured so that it can "meet the financial impact of any legal liabilities arising from its activities".
This means that if the department or one of its staff is negligent and this causes a student to be injured, then the student will be able to legally recover damages from the department, and the department's insurance will cover the cost.
However, if an accident occurs at a school and it is not caused by any wrongdoing or omission by the department, then the department's insurance does not cover the student.
If students are injured during a sporting activity, they are automatically covered under the NSW Government's supplementary sporting injuries benefits
scheme
. The cover is provided to all NSW primary and secondary school children – both public and independent – so long as they are participating in school authorised sports.
Tasmanian Government schools
provide
Personal accident cover for students enrolled in Government school/colleges involved in approved workplace learning activities as part of a vocational education and learning (VEL) program, and Special and Alternative Learning Programs (SALP).
In Queensland and Victoria, policies on student accident insurance work somewhat differently.
A statement on the
Queensland Education Department
website
advises
parents that it does not cover student accident insurance, and explains that parent, child or caregiver bear all responsibility for any injuries incurred by their school activities.
Government schools in Victoria similarly are without accident insurance for their students.
One mother who spoke to Fairfax Media said she was surprised that her school's insurance did not cover her son's medical treatment after he fell at school camp.
The student now needs $20,000 worth of dental surgery.
She called on Victorian schools to take out accident insurance policies that covered all students and reduced costs for parents, as well as the need for them enter into litigation.
In Western Australia, the education department states that school staff owe students a
duty of care
– a duty imposed by the law to take care to minimise the risk of harm to another – which, if breached, may result in the department being liable.
The report's author, Charles Darwin University education academic, Dr Brendon Hyndman, told
The Age
the trend of "surplus safety" at schools was worrying.
Restrictive play time left kids bored, and increased the chances they would injure themselves or bully other kids – the common reason why pupils felt unsafe at school, the report stated.