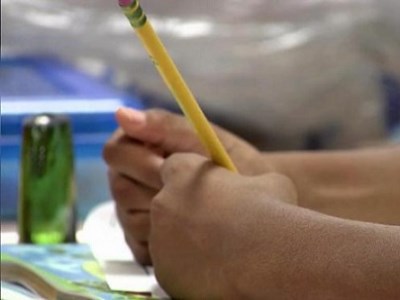 Newly arrived refugees and migrants are learning English with the help of high school students who act as tutors and classroom assistants in an innovative new program being pioneered in suburban Melbourne.
Eighty-nine students from Box Hill High School, located in Melbourne's east, are helping out in English classes delivered by settlement agency
Adult Multicultural Education Services (AMES)
Australia as part of the high school's Duke of Edinburgh's Program.
The students benefit from learning about community service and gain personal confidence in being able to help individuals in a very practical way, their teachers say.
Meanwhile, the newly arrived language students benefit from extra one-on-one tuition and conversation as well as from forming friendships with young Australians.
Box Hill High School learning leader and coordinator, Martin Jellinek, said the program had direct benefits for his students.
"We wanted to show them what community service was really about and through this program they can really see the outcomes and the benefits directly," Jellinek said.
"They see the gratitude and the difference they are making in people's lives; and they feel what it means to be needed and to be useful."
Jellinek added that the program also gave students important perspectives on their own lives.
"Sometimes they come out of session and they say 'that was amazing, these people have incredible stories'. I think this makes them realise their problems are first world problems," he said.
"Some of our students are really moved by what they hear in the sessions and it's definitely a positive thing for them to gain an understanding of refugee and migrant experiences."
Refugee and migrant settlement agency AMES Australia helps newcomers to Australia settle here and, as part of that work, provides English language tuition to migrants and refugees. One of its language centres is also in Box Hill.
AMES Australia Teacher, Joseph Jach, said the program was underpinned by the fact that both sets of students benefitted from it.
"When we first started talking about this with Box Hill High we realised that for it to work, both sets of students needed to get something out of it," Jach said.
"And that is what happens. Our students get help in conversational English and writing tasks and the Box Hill High students learn about the migrant and refugee experience. Both sets of students have become interested in each other's stories."
Jach added that some of his older students are learning about Australia's education system from the Box Hill kids which can benefit their own children in time, while the younger students form friendships with young Australians.
"So, they're learning English but they are also being made to feel welcome in the broader community," he said.
"Another thing we see is that our migrant and refugee students sometimes feel more at ease with the high school students than maybe with their teachers. So they feel free to make a mistake, which ultimately, is how you learn."
Jach added that the two sets of students were interacting in a range of ways.
"Sometimes there is one on one conversation or writing session and there are group activities," he said.
Box Hill High School student, Lewis Harvey, 15, said the experience of helping migrants and refugees learn English was "fun and interesting".
"It's fun and it's a good feeling to be able to help people learn something," Lewis said, adding the experience had made him consider taking up teaching as a career.
Fellow student, Roy Huang, 16, himself a migrant from China, said his own experience made him realise the importance of learning English.
"I went to language school two years ago and I'm still studying English so I know how it feels," Roy said.
"It's a special feeling being able to help someone else drawing from your own experiences."
Migrant, Katsarou Spyridoula – who arrived from Greece three years ago – said she appreciated the help of the students from Box Hill.
"They are really nice kids – just like my own daughter – and it is great to have them around to help. It's very casual and fun," Spyridoula said.
Lina Mozafari, from Iran, said she enjoyed talking to the Box Hill students.
"We learn things from them in an informal way. It's very nice to talk to them and I think it's good from them too. They learn things from us," Mozafari said.
Laurie Nowell is the Senior Journalist at AMES Australia