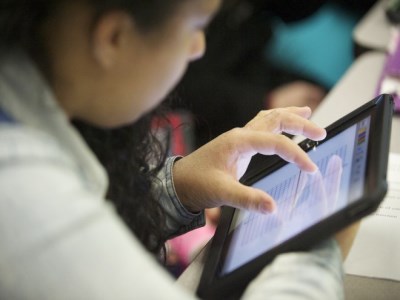 In the modern classroom, there is no shortage of technology. But just how well are schools using it to meet student learning outcomes?
The growth of e-learning tools such as interactive whiteboards and video conferencing are revolutionising the education space, but for some schools they are doing little to lift student performance.
The reason for this, according to a leader in education technology, is an overemphasis on the technology itself rather than what it can do to improve teaching and learning in the classroom.
D2L is a recognised innovator in the Learning Management System (LMS) market. D2L CEO, John Baker, told
The Educator
how principals can implement a great technology strategy in their schools by tailoring the vehicle – that is, the technology – to the vision.
"Most technology is thought of as a teaching tool where teachers post the content and expect students to absorb it, whereas our system has been designed to engage students through games and interactive learning activities," Baker told
The Educator
.
"We understand that not every student is the same and learns at the same pace or through the same activities – so how do you embrace those differences to personalise the experience and help them perform better?"
Baker said that the emergence of 'anytime anywhere' learning demands a more considered approach to how schools should use technology. He said many schools, while device rich, are struggling to improve student outcomes due to the lack of a cohesive strategy around tailoring the technology to individual student needs.
"I would implore more schools to think about technology from the metrics that really matter for student performance. What many educators miss is why students are using a particular device," Baker said.
"They need to ask, 'what technology can support student learning' and 'how do we foster a community of learners regardless of the device students are using?'"
Baker suggested the solution was for schools to tailor the technology to their existing strategies around how to improve student learning.
"Acquisition of a device is not a technology strategy. Great technology strategy anchors itself off student learning outcomes. But what drives that improvement in student performance?"
Baker said his organisation has worked with disadvantaged schools in the US which had performed very poorly but now rank among the highest performance schools since introducing this technology.
"If we can achieve this in small rural communities in places like Alabama, there's no question that we can do it here in Australia," Baker said.
"So in our case, it's not about whether the student has the best laptop or the best internet connectivity. It starts with 'does the student want to learn?' How do we spark that passion and desire to learn?"
"I'm a believer that students who have that passion will persevere through whatever technology challenge they have in order to achieve the outcomes they're striving towards."