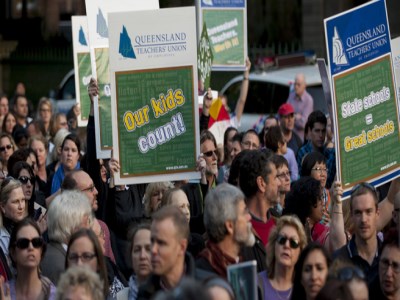 More than 7,500 Catholic teachers have stopped work for the seventh time over pay and workload conditions.
The stop work action took place during the Brisbane Catholic Education Conference on the Gold Coast today.
The state's Catholic Education Commission (CEC) executive director, Dr Lee-Anne Perry, said she was asking union members "to look at the fair and responsible offer made by Catholic employers".
"By working together, schools and staff can achieve the best possible outcome for all affected parties – students, parents and staff," Perry said.
Queensland's Catholic schools have offered a wage increase of 2.5% or $23.90 per week, whichever was greater, along with a commitment to match Education Queensland wage increases if they were higher.
Union members are set to vote on whether to escalate their protected industrial action,
Independent Education Union
(IEU) president, Terry Burke, said.
Late last year, the IEU
called
for the "longstanding inequities" between Queensland Catholic experienced teacher salaries and those of their interstate colleagues to be addressed.
In a statement, the union said Queensland teachers received $6,792 per year less than their NSW counterparts at the top automatic incremental step.
However, Perry
said
the IEU's comparisons between salary structures in Queensland and NSW Catholic schools were misleading.
"In Queensland Catholic schools, the most experienced classroom teachers have access to an Experienced Teacher 6 allowance," she said.
"With the 2.5% pay increase Queensland Catholic employers are offering, these teachers will earn over $93,000 per annum, which is more than experienced teachers in NSW Catholic diocesan schools."