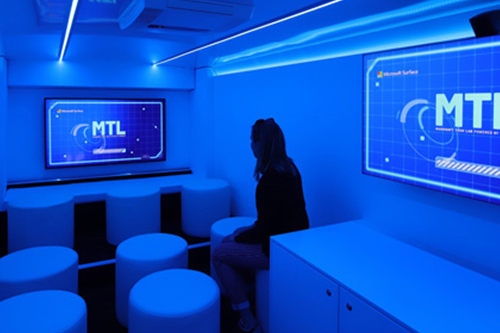 Teachers across Australia will soon get hands-on experience in how they can effectively integrate tech into the classroom and augment learning.
Microsoft's Tech Lab, powered by Surface, is a custom built fully functional bus set-up like a futuristic classroom to conduct cutting edge sessions.
The initiative responds to reports showing a marked decline in the digital literacy of Australia's schoolchildren.
Earlier this year, the NAP-ICT (National Assessment Program – Information Communication Technology) Literacy Assessment by the Australian Curriculum, Assessment and Reporting Authority (ACARA) found that just half of Australian students in Years 6 and 10 are proficient in ICT literacy.
However, by using the latest innovative tech, creativity software, hardware and STEM gear, teachers will have a powerful suite of resources to spark curiosity in students.
The experiences range from coding a swarm of drones or pieces of fruit to make a piano, to creating a 3D neon animation of dance moves or building a true to life 3D model of their own school.
Below, The Educator speaks to Travis Smith, Microsoft's K-12 lead, to find out more.
TE: What are some of the most powerful resources the Tech Lab offers teachers when it comes to preparing students for the workforce of the future?
TS: The IT sector is one of Australia's fastest growing industries, in the last two years alone over 40,000 ICT jobs have been created in Australia. As this industry rapidly grows, skills such as coding are becoming increasingly valuable and sought after by employers. Microsoft Tech Lab powered by Surface offers teachers & students the opportunity to experience cutting edge technology and amazing STEM lessons to inspire and spark curiosity amongst them. Microsoft Tech Lab also provides teachers the opportunity to further their professional development, via NESA accredited workshops to improve teaching and learning.All of the activities and technology on the MTL, whilst fun and out of the ordinary, will in turn provide students with the skills they need to be ready for the workforce they will graduate into.
TE: In your view, what will the jobs of 2030 look like, and what skills will Australian students need?
TS: Microsoft recently conducted research on exactly this topic, to understand more deeply how we can best support educators and schools to provide students with the right skills for the jobs of tomorrow. With technology transforming almost every industry, through automation, it is the more human skills that are becoming most important. Employers are placing a premium on social skills and emotional literacy with up to 40% of future jobs requiring explicit social emotional skills. Academics are noting their impact on deep learning and the students themselves recognise these skills are critical for success. The research also highlighted personalised learning as an approach which supports skill development, both cognitive, social and emotional by guiding students towards greater autonomy and control. This echoes what the The Gonski 2.0 report found as a key deliverable the Australian National curriculum needs to focus on. With the right technology and tools, all students can work at their own pace, or style, while educators maintain visibility on the progress and challenges as they happen, to support independence, while ensuring no child is left behind. For students, they want to develop these skills to navigate their own learning, to explore and make choices. To unlock their curiosity and potential and also for teachers to know and understand them as individuals. Three technologies were highlighted in the research as showing great promise to support social and emotional skill development plus personalised learning approaches; collaborative platforms, mixed reality and analytics powered by Artificial Intelligence. The Microsoft Tech Lab is able to demonstrate the Modern Classroom and how the right device, combined with the right tools, can transform learning.
TE: Can you tell us about the gap between male and female students and how we can inspire young girls to pursue STEM based career by exposing them to the breadth of technology?
TS: While the IT sector is rapidly growing, only 13% of girls study STEM in grades eleven and twelve and just 1 in 10 enrolments to IT based degrees are girls. Combined, women account for less than 24% of the current IT workforce, a clear indicator there is perceived lack of opportunity and access for young girls entering STEM. Diversity and inclusion are the values that underpin everything Microsoft does. Microsoft encourages everyone, male or female, to explore STEM based careers, however we acknowledge that this is a field of study that has been overwhelmingly pursued by males. As a result, the Microsoft Store in Sydney offers various programs and initiatives that provide educational coding opportunities and support to young girls. Two of the biggest influences on future employment will be automation and globalisation. As more industries start to embrace technology to replace manual labour tasks, more jobs than ever are set to be threatened. In Australia alone, almost 3 million future jobs may be wiped completely, so it's more important than ever to have the skills that are needed for the future, not for today's job market. In total, 40% of the workforce have a moderate to high chance of losing their jobs in the next 10 years, with statistics showing that 4 out of 10 unskilled workers who lose their job, never find another of equal or higher pay again. With females representing only 1 in 10 STEM graduates, there is a huge risk of unemployment for women to grow significantly as technology continues its workforce takeover.
TE: How can technology complement learning, rather than hinder it when managed correctly both at home and at school?
TS: We know that technology is at the heart of future careers, and society more broadly. By introducing children to technology in a safe, educational and supported way we can ensure that they learn the essential skills to succeed in any area they choose to pursue. We hope that by experiencing Microsoft Tech Lab, teachers and students can see how technology can be a powerful tool to be used to create things that without it wouldn't exist without it. We hope that this will expand the understanding of how to use these tools to enrich the classroom for many years to come.