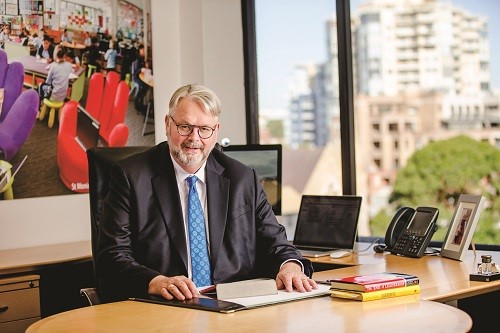 Greg Whitby's career has evolved to a point where he is shaping the dynamic landscape of modern education.
Today, Whitby heads up the Catholic Diocese of Parramatta, NSW, as its executive director of schools, and has been recognised as the best educator in NSW for his outstanding contributions to the state's education system.
His path to success began as a university student in 1974, when Whitby was able to complete more subjects than required in the first half of his undergraduate degree, allowing him to teach part-time in primary schools.
"Even though I was training to become a secondary teacher, it was great grounding for teaching in high schools because I realised that my role was to teach students, not subjects," Whitby told The Educator.
Two years later, Whitby began his teaching career at a growing, dynamic and multicultural boys' high school in South Western Sydney.
"Being responsible for teaching a diverse group of individuals each day challenged me to think about new ways in which I could better meet the needs of all my learners," he said.
Whitby thought he was settled in the government school sector until an accidental meeting on a rugby field in 1981 led him to accept a new role in a non-government school that was about to be built.
"I have been in the non-government sector for more than three decades. It's interesting how one person inspired me to make such a leap," he said.
"In 1990, after moving into the central education office and completing a masters degree in management and business, I took on a role as a part-time lecturer and tutor in the Graduate School of Business at Western Sydney University."
Whitby said this was "an extraordinary learning experience" that allowed him to teach adults who were from different sectors and industries.
"I still believe that schools and systems can learn from innovative businesses and organisations," he said.
Becomes principal
In 1992, Whitby took up his first principal role when, after 12 years in the central education office, he was offered the opportunity to take up an acting principalship position at a large co-educational school in Western Sydney.
"I still believe the knowledge and experience gained by working at a system level had a positive impact on how I led the school community, addressed challenges, and communicated with students, staff and parents," Whitby said.
In 2006, at the suggestion of a colleague, Whitby began writing a blog, Bluyonder, as a way to connect more directly with the education community.
"The blog is still going strong after more than 570 posts and has been fertile ground for helping shape my thinking and sharpen my focus," Whitby said.
"I hope it challenges thinking at school, system and policy level."
Contributes to a 'global dialogue'
In 2015, Whitby was invited to speak at the Congregation for Catholic Education's World Congress in Rome during its 50th anniversary celebrations.
"It was a great privilege to be able to contribute to a global dialogue on the role and goals of Catholic schools in today's world and to reflect on the challenges and opportunities of providing quality Catholic schooling to today's learners," he said.
On Australia Day last year, Whitby was recognised in the Australia Day Honours list with his appointment as a Member in the General Division of the Order of Australia (AM).
Following his acceptance of the Australia Day award, Whitby pointed to the selfless nature of the teaching profession by saying: "no one goes into education to achieve accolades".
"I've always had a strong commitment to improve the lives of young people through education and believe the award affirms the work I've been doing in Catholic education over 40 years," Whitby said.