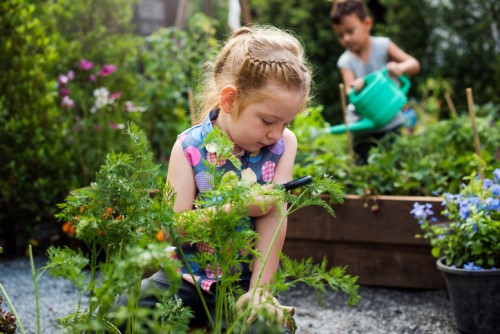 The United Nations has estimated that over the next decade, the number of overweight children under five will jump from 42 million to 70 million.
Being places where children spend a large portion of their time, schools have a critical role to play in educating them about the benefits of a healthy diet and lifestyle.
To this end, school gardens allow students to grow, harvest and prepare a variety of fruits and vegetables.
As pointed out in Harvard University's Usable Knowledge, several students have shown that gardens can also shift children's nutritional practices.
A 2017 evaluation of FoodCorps conducted by Columbia University found that in schools that provide frequent, high-quality opportunities for hands-on nutrition learning, students eat up to three times more fruits and vegetables at school lunch – regardless of whether or not that food was grown in the garden.
The effects extend outside the school day, too.
A 2018 randomized control study by Nancy Wells at Cornell University found that children whose schools provided regular school garden lessons had more access to low-fat vegetables and fruit at home than children without that curricula.
So where should schools start when it comes to creating their own school garden? Usable Knowledge provides some best practices tips below:
Focus on skill development: Connect it to the cafeteria, the supermarket, and home. Changing how students eat requires more than providing access to fresh foods and shifting students' preferences.
Integrate the garden into other classroom lessons: Many school gardens are run by a single teacher or volunteer, but the whole school can get involved, too.
Make your approach culturally relevant and place-based: The climate and traditions of your local community can — and should — matter when it comes to growing food.
Don't provide unhealthful food: Every way in which students interact with food at their school is a lesson on what should be part of their daily diet.
Foster a mindset of exploration: Eating healthfully requires kids to be open to trying new foods. Encourage students to taste vegetables from the garden multiple ways.
Related stories:
'Unschooling': What the research says
The impact of smartphones in the classroom
Do private schools educate students better?