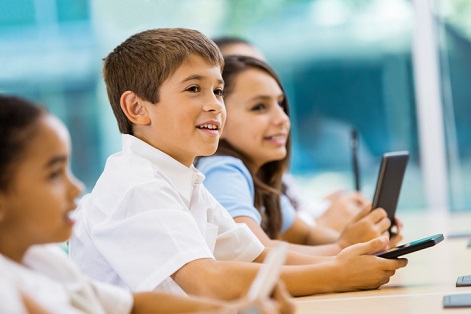 When a child is feeling anxious, bored or challenged it can often be difficult for them to verbalise these feelings, let alone approach someone about it.
Teachers who know their students well can often spot when something is wrong and take the initiative, but for many busy educators the tyranny of the timetable can mean that vulnerable or disengaged children slip through the cracks.
As recent reports show, monitoring students' engagement and wellbeing is becoming increasingly important.
According to recent Kids Helpline data, mental health issues and thoughts of suicide accounted for 59% of all contacts made last year by children and young people.
Some schools, such as Loreto Toorak, Oakhill College and the Shore School are using a platform that provides children with a safe and discrete way to communicate their emotional state and wellbeing through a series of emojis that are tailored to school requirements.
Increased uptake by schools
Vivi's Student Feedback tool, developed in partnership with teachers, monitors students to identify those who need help, shares instant results related to lessons with the class (or keep them private), and sets up alerts for school staff triggered by results of wellbeing polls.
Vivi CEO, Natalie Mactier, said 2019 has seen increased participation from schools looking to improve their monitoring of student engagement and wellbeing.
"This year we've been excited to see more Heads of Learning involved in the decision making around their school's technology investment," Mactier told The Educator.
"It's great to be having conversations with multiple school stakeholders about creating collaborative learning environments that drive greater student engagement."
Julianne Dennett, Head of Positive Education at Loreto Toorak, said an especially helpful aspect of the tool is that teachers aren't required to prepare questions ahead of time or load into a separate technology system.
"As a result, they can quickly initiate a feedback session when they see fit," Dennett told The Educator.
"Vivi captures a screenshot of what's being presented at the time for them to refer back to later. It's also a highly visual system, through the use of emojis, which our students can easily relate too."
Opportunity for 'enormous impact'
Mactier said that with numerous distractions inundating students, it's critical that technology enhances the learning environment rather than further complicating it.
"Actively involving students in delivering and discussing lesson content aids in deeper understanding and greater recall," Mactier said.
"Technology enables identification of early signs of mental health issues in students so that schools can arrange assistance, intervention or teach self-help strategies."
Mactier said this is an opportunity for educators to have an "enormous impact" on a student's future success.
"Vivi's 2020 product roadmap is filled with education specific features and new tools that have been crowd-sourced directly from the company's most active users," she said.
She said these include enhancing existing functionality around digital signage, live broadcast and monitoring student welfare, plus releasing more tools that enable best practice classroom management.
"We've just recently partnered with Google, which is exciting, allowing seamless integration of Vivi and the G Suite cloud solutions," Mactier said.
"From next year, schools can expect to see more product integrations with key partners making Vivi the most agnostic classroom engagement tool on the market".