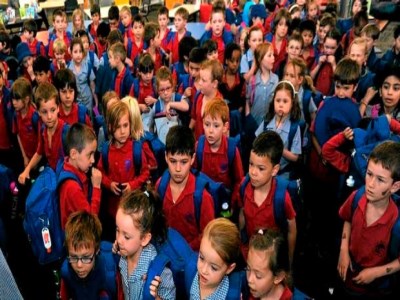 On Monday, research commissioned by the Grattan Institute
warned
that as Victorian schools prepare to take in 190,000 extra students over the next decade, there may not be enough facilities to accommodate them. To cope with this, 7,200 extra classrooms and teachers will be needed, with between 140-220 new government and non-government schools. However, despite this, not a single new state school will open its doors to students when class returns next week.
In other news,
Kevin Bates
, president of the
Queensland Teachers Union
(QTU)
told
The Educator
that while teachers faced professional battles on many fronts, job security and workloads were proving to be "the biggest issues". "Short term contracts are on the rise and the target of a strong union campaign in Queensland. Early career teachers are often used as short term employees and they suffer from the lack of certainty and professional support as they develop," he said. Bates added that while teaching was a demanding job, the first five years of an educator's career were often the most challenging and that the lack of crucial administrative, government and societal support was forcing teachers – who might otherwise stay – to leave the profession.
Finally, principals will soon be
given access
to more than 250 STEM programs through the STEM Program Index (SPI 2016). The new resource, unveiled by the office of Australia's chief scientist, Ian Chubb, aims to help students excel in science, technology, engineering and mathematics by giving school leaders an accessible guide of the available options. Australian Primary Principals Association (APPA) president, Dennis Yarrington, explained how the SPI will make a difference to principals and teachers. "The SPI will enable schools to be aware of the options for extending the learning beyond the school and engaging with community or further afield based organisations or competitions," he told
The Educator
. "Many schools see opportunities for students to learn with others outside the classroom and connect to students in other schools."