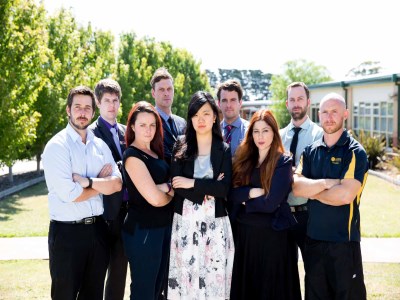 In this week's top story, an 18-month WorkCover investigation
found
that work-related stress contributed to the suicide of Melbourne principal, Dr Mark Thompson, in December 2014.
Australian Catholic University
(ACU) associate professor, Dr
Philip Riley
– who heads the national Principal Health and Well-Being Survey report – told
The Educator
that little progress has been made regarding state education departments implementing the report's recommendations. "There is some movement by the Western Australian education department, who have taken it more seriously than anyone else, but the Victorian education department have been the least responsive," he said. "They see principal health and well-being as a workload issue and think they know what the problems and solutions are, but are doing little to improve the situation."
In other news,
David Gonski
, whose name is synonymous with Australian education,
broke his silence
and weighed into the school funding debate on Thursday. Speaking at the Competitive Advantage forum in Sydney, Gonski said that despite pushing for needs-based funding, he had never set specific spending targets. "I said further funding was required but I didn't say how much and I didn't say who should pay for it. Needs-based funding is what I pushed for, and we have that," Gonski told assembled media. As for the amount required, Gonski said that was "a matter for the politicians" and the people of Australia. "I'm not going to comment one way or the other on that, because it's not for me to do. It is up to the politicians to work out how much, who pays it, and when it's paid," he said.
Finally, The Educator spoke with acclaimed Australian filmmaker, Michael Cordell, about a soon-to-be released
four-part series
– called Revolution School – which explores in-depth what Kambrya College, located in Melbourne, has managed to achieve against daunting odds. Cordell, who is behind films such as Bondi, The Track and Drama School, told
The Educator
that the fundamental intent of the series was to find an 'ordinary' school that was doing exciting things. "We followed the compelling stories of students, parents, and teachers from the school over a full school year, and this project was motivated by the depressing fact that education in Australia is slipping behind in comparison to other developed countries," he said. "We really wanted to do something that helped showed the way forward and which could be an inspiration for our education system."