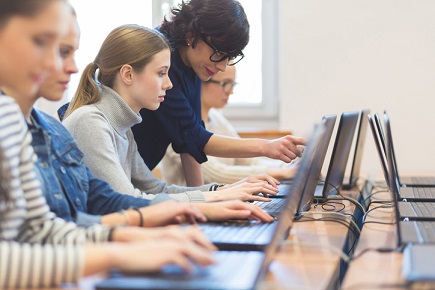 In 2017, the NSW Government announced that the state's school canteen menus would be overhauled in an effort to tackle the increasingly complex issue of childhood obesity.
Under the sweeping changes, fruit, vegetables and freshly made food will now make up at least 75% of school canteen menus, while other offerings will require a Health Star Rating of 3.5 or above.
However, while school canteen menus can change, students' attitudes to food can still be easily shaped by junk food ads, as a new world-first study by the University of Wollongong (UOW) has revealed.
The study, published in the International Journal of Behavioural Nutrition and Physical Activity, shows that children eat more food after watching unhealthy food advertising and don't compensate by eating less at later meals.
To combat this issue, the Kitchen Garden Foundation is working with more than 1,600 early years' centers, as well as primary and secondary schools to improve students' education about healthy eating and its benefits.
Stephanie Alexander Kitchen Garden Foundation CEO, Rebecca Naylor, said the company's work began after Australian cook, restaurateur and food writer, Stephanie Alexander, decided to do something about the growing obesity problem in Australia.
"The program was motivated by Stephanie's childhood memories of a kitchen garden, her parents' passion for food, and a family culture that focused on the ritual of sharing a meal," Naylor told The Educator.
"Stephanie believes that children develop positive food habits when they experience the joys of growing, harvesting, preparing and sharing fresh seasonal delicious food."
Based on this philosophy of pleasurable food education, the first Stephanie Alexander Kitchen Garden Program was piloted at Melbourne's Collingwood College from 2001 and, following its success, the Foundation was set up in 2004.
The Foundation runs face-to-face professional development days that offer teachers the chance to get their hands dirty in the kitchen and garden and learn how to deliver "pleasurable food education".
Naylor said the professional development days encompass all three domains of the National Professional Standards for Teachers, providing a further incentive for educators to get involved.
"Our program can also support cross-age tutoring, problem-based learning and help engage families who may be reluctant to volunteer in the classroom but feel more comfortable in a kitchen or garden setting," Naylor said.
The Foundation recently launched a secondary schools kitchen garden project, which will develop the first curriculum-integrated kitchen garden program model for Australian secondary schools.
The new Secondary Schools Kitchen Garden Program, which will be developed through the project, will help students in Years 7–10 learn positive food habits through hands-on pleasurable food education.
The Foundation's training team is now heading to capital cities and regional centers across Australia to run face-to-face professional development days for schools, which can access customised sessions.
"Kitchen garden programs also offer a broad range of benefits for students and school communities, with far-reaching positive learning and social impacts and improved health and well-being outcomes," Naylor said.
"The benefits of a kitchen garden program extend well beyond the school gate."
Related stories: